PROFILE
OFFICIAL NAME:
Republic of Croatia
Geography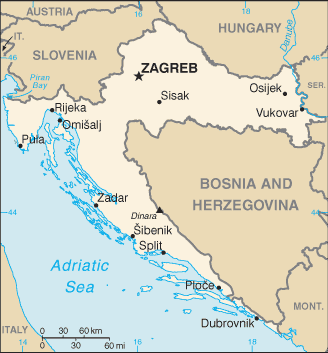 Area: 56,542 sq. km. land area (slightly smaller than West Virginia), 31,067 sq. km. coastal sea area.
Major cities (2002 est.): Capital--Zagreb (779,145). Others--Split (188,694), Rijeka (144,043), Osijek (114,616).
Terrain: Croatia is situated between central and eastern Europe. Its terrain is diverse, containing rocky coastlines, densely wooded mountains, plains, lakes, and rolling hills.
Climate: Croatia has a mixture of climates. In the north it is continental, Mediterranean along the coast, and a semi-highland and highland climate in the central region.
People
Population (July 2005 est.) 4,495,904.
Growth rate (2005 est.): -0.02%.
Ethnic groups: Croat 89.6%, Serb 4.5%, other 5.9% (including Bosniak, Hungarian, Slovene, Czech, and Roma) (2001 census).
Religions: Catholic 87.8%, Orthodox 4.4%, Slavic Muslim 1.28%, others 6.52%.
Language: Croatian (South Slavic language, using the Roman script).
Health (2005 est.): Life expectancy--male 70.79 years; female 78.31 years. Infant mortality rate--6.84 deaths/1,000 live births.
Government
Type: Parliamentary democracy.
Constitution: Adopted December 22, 1990.
Independence (from Yugoslavia): June 25, 1991.
Branches: Executive--president (chief of state), prime minister (head of government), Council of Ministers (cabinet). Legislative--unicameral Parliament or Sabor. Judicial--three-tiered system.
Suffrage: Universal at 18, or 16 years if employed.
Political parties: Social Democratic Party of Croatia (SDP); Croatian Peasant Party (HSS); Liberal Party (LS); Croatian People's Party (HNS); Libra Party; Croatian Democratic Union (HDZ); Croatian Social Liberal Party (HSLS); Croatian Block (HB); Croatian Christian Democratic Union (HKDU); Istrian Democratic Assembly (IDS); Croatian Independent Democrats (HND); Action of Social Democrats of Croatia (ASH); Slavonija-Baranja Croatia's Party (SBHS); Democratic Centre (DC); Croatian Party of Rights (HSP); True Croatian Revival Party (HIP); Primorje Goransko Union (PGS); Serb People's Party (SNS); Independent Democratic Serb Party (SDSS).
Economy
Real GDP growth (2005 est.): 3.2%.
Inflation rate (2005 est.): 3.2%.
Unemployment rate (2004): 13.8%.
Natural resources: Oil, bauxite, low-grade iron ore, calcium, natural asphalt, mica, clays, salt, and hydropower.
GEOGRAPHY
Croatia serves as a gateway to eastern Europe. It lies along the east coast of the Adriatic Sea and shares a border with Serbia and Montenegro, Bosnia and Herzegovina, Hungary, and Slovenia. The republic swings around like a boomerang from the Pannonian Plains of Slavonia between the Sava, Drava, and Danube Rivers, across hilly, central Croatia to the Istrian Peninsula, then south through Dalmatia along the rugged Adriatic coast. Croatia is made up of 20 counties plus the city of Zagreb and controls 1,185 islands in the Adriatic Sea, 67 of which are inhabited.
PEOPLE AND HISTORY
The Croats are believed to be a purely Slavic people who migrated from Ukraine and settled in present-day Croatia during the 6th century. After a period of self-rule, Croatians agreed to the Pacta Conventa in 1091, submitting themselves to Hungarian authority. By the mid-1400s, concerns over Ottoman expansion led the Croatian Assembly to invite the Habsburgs, under Archduke Ferdinand, to assume control over Croatia. Habsburg rule proved successful in thwarting the Ottomans, and by the 18th century, much of Croatia was free of Turkish control.
In 1868, Croatia gained domestic autonomy while remaining under Hungarian authority. Following World War I and the demise of the Austro-Hungarian Empire, Croatia joined the Kingdom of Serbs, Croats, and Slovenes (the Kingdom of Serbs, Croats, and Slovenes became Yugoslavia in 1929). Yugoslavia changed its name once again after World War II. The new state became the Federal Socialist Republic of Yugoslavia and united Croatia and several other states together under the communistic leadership of Marshall Tito (born Josip Broz).
After the death of Tito and with the fall of communism throughout eastern Europe, the Yugoslav federation began to crumple. Croatia held its first multi-party elections since World War II in 1990. Long-time Croatian nationalist Franjo Tudjman was elected President, and one year later, Croatians declared independence from Yugoslavia. Conflict between Serbs and Croats in Croatia escalated, and one month after Croatia declared independence, civil war erupted.
The United Nations mediated a cease-fire in January 1992, but hostilities resumed the next year when Croatia fought to regain one-third of the territory lost the previous year. A second cease-fire was enacted in May 1993, followed by a joint declaration the next January between Croatia and Yugoslavia. However, in September 1993, the Croatian Army led an offensive against the Serb-held Republic of Krajina. A third cease-fire was called in March 1994, but it, too, was broken in May and August 1995 after Croatian forces regained large portions of Krajina, prompting an exodus of Serbs from this area. In November 1995, Croatia agreed to peacefully reintegrate Eastern Slavonia, Baranja, and Western Dirmium under terms of the Erdut Agreement. In December 1995, Croatia signed the Dayton peace agreement, committing itself to a permanent cease-fire and the return of all refugees.
The death of President Tudjman in December 1999, followed by the election of a coalition government and President in early 2000, brought significant changes to Croatia. The government, under the leadership of then-Prime Minister Racan, progressed in implementation of the Dayton Peace Accords, regional cooperation, refugee returns, national reconciliation, and democratization.
On November 23, 2003, national elections were held for Parliament. The current government, headed by Prime Minister Ivo Sanader, took office in December 2003. The Sanader government has made membership for Croatia in the European Union and in NATO its top priorities. Elections for Parliament are not expected again until November 2007. Presidential elections were held in January 2005. President Mesic was re-elected to a second term in office, defeating Croatian Democratic Union (HDZ) candidate Jadranka Kosor in two rounds of balloting. President Mesic was inaugurated for a second term on February 18, 2005. Presidential elections will next be held in January 2010.
GOVERNMENT AND POLITICAL CONDITIONS
The Croatian Parliament, also known as the Sabor, became a unicameral body after its upper house (Chamber of Counties) was eliminated by constitutional amendment in March 2001. The remaining body, the Chamber of Representatives, consists of 151 members who serve 4-year terms elected by direct vote. The Sabor meets twice a year--from January 15 to July 15 and from September 15 to December 15.
The powers of the legislature include enactment and amendment of the constitution, passage of laws, adoption of the state budget, declarations of war and peace, alteration of the boundaries of the republic, and carrying out elections and appointments to office. During the parliamentary elections of January 2000, six parties united to form a coalition government--Social Democratic Party of Croatia (SDP), Croatian Social Liberal Party (HSLS), Croatian Peasant Party (HSS), Istrian Democratic Assembly (IDS), Liberal Party (LS), and Croatian People's Party (HNS). The IDS left the coalition in June 2001. In July 2002, the HSLS left the coalition, after which it split into two parties, Libra and the HSLS. Libra remained in the coalition. As a result of the parliamentary elections in November 2003, the HDZ formed a government in coalition with the Pensioners Party (HSU) and all ethnic minority representatives in the Sabor.
After the resignation of Miomir Zuzul, Kolinda Grabar-Kitarovic became Foreign Minister on February 17, 2005. The Ministries of Foreign Affairs and European Integration were merged under her leadership. In addition, Damir Polancec was named Deputy Prime Minister for Economic Affairs, and Neven Ljubicic replaced Andrija Hebrang as Minister of Health. In February 2006, Ana Lovrin was named Minister of Justice.
The president is the head of state and is elected by direct popular vote for a term of 5 years. The president is limited to serving no more than two terms. In addition to being the commander in chief, the president appoints the prime minister and cabinet members with the consent of Parliament. Following the death of President Tudjman, the powers of the presidency were curtailed and greater responsibility was vested in Parliament.
The prime minister, who is nominated by the president, assumes office following a parliamentary vote of confidence in the new government. The prime minister and government are responsible for proposing legislation and a budget, executing the laws, and guiding the foreign and internal policies of the republic.
Croatia has a three-tiered judicial system, consisting of the Supreme Court, county courts, and municipal courts. Croatia's Supreme Court is the highest court in the republic. The Supreme Court assures the uniform application of laws. Members of the high court are appointed by the National Judicial Council, a body of 11 members, and justices on the Supreme Court are appointed for life. The court's hearings are generally open to the public.
The Constitutional Court is a body of 13 judges appointed by Parliament for an 8-year term. The Constitutional Court works to assure the conformity of all laws to the constitution.
Principal Government Officials
President--Stjepan Mesic
Prime Minister--Ivo Sanader
Deputy Prime Minister for Economic Affairs--Damir Polancec
Deputy Prime Minister/Minister of the Family, Veterans' Affairs and Intergenerational Solidarity--Jadranka Kosor
Minister of Health and Social Welfare--Neven Ljubicic
Minister of Foreign Affairs and European Integration--Kolinda Grabar-Kitarovic
Minister of Defense--Berislav Roncevic
Croatia maintains an embassy in the United States at 2343 Massachusetts Avenue NW, Washington DC, 20008-2853, tel. (202) 588-5899, fax: (202) 588-8936. Consulates General of the Republic of Croatia are located in New York City, Chicago, and Los Angeles. Honorary consulates are located in St. Paul, New Orleans, Seattle, Pittsburgh, and Kansas City.
ECONOMY
Following World War II, rapid industrialization and diversification occurred within Croatia. Decentralization came in 1965, allowing growth of certain sectors, like the tourist industry. Profits from Croatian industry were used to develop poorer regions in the former Yugoslavia. This, coupled with austerity programs and hyperinflation in the 1980s, contributed to discontent in Croatia.
Privatization and the drive toward a market economy had barely begun under the new Croatian Government when war broke out in 1991. As a result of the war, the economic infrastructure sustained massive damage, particularly the revenue-rich tourism industry. From 1989 to 1993, GDP fell 40.5%. Following the close of the war in 1995, tourism rebounded, and the economy briefly recovered.
The solid growth that began in the mid-1990s halted in 1999. A recession, caused primarily by weak consumer demand and decrease in industrial production, led to a 0.9% contraction of GDP that year. Furthermore, inflation and unemployment rose, and Croatia's currency--the kuna--fell, inciting fears of devaluation.
Fueled in great part by increases in tourism, the Croatian economy began to turn around in 2000, growing 2.9%. This was followed by a 3.8% increase in 2001. The trend continued in 2002, when the economy expanded by 5.2%, stimulated by a credit boom led by newly privatized and foreign-capitalized banks, some capital investment (most importantly road construction), increases in tourism, and gains by small and medium-sized private enterprises. The increase of unemployment has halted and is slowly reversing, although state-financed enterprises, particularly in agriculture and shipbuilding, continue to rely on subsidies and rack up arrears. Weak investor interest due to the poor financial condition of many firms, unresolved property right issues, unrealistic Croatian expectations of market value, and political infighting led to a slowdown of privatization in 2002. However, this trend reversed slightly in 2004 when 14 majority government-owned small and medium sized firms were privatized. The process of privatization has once again stalled, with the privatizations of several steel companies and shipyards, among other industries, left pending.
FOREIGN RELATIONS
Croatia is in the midst of pursuing a policy of greater Euro-Atlantic integration. In October 2001, Croatia and the European Union (EU) signed a Stabilization and Association Agreement. In February 2003 Croatia formally presented its EU membership application, and in April 2004 the European Commission agreed to open EU accession negotiations with Croatia. The opening of talks was delayed in March 2005 when the EU decided that Croatia was not fully cooperating with the International Criminal Tribunal for the Former Yugoslavia (ICTY), but talks finally got underway in October 2005, after the ICTY's Chief Prosecutor, Carla del Ponte confirmed that Croatia was fully cooperating.
In December 2005 General Ante Gotovina, indicted by the ICTY for war crimes and a fugitive since 2002, was arrested by Spanish authorities in the Canary Islands, partially as a result of intelligence information provided by the Croatian Government. Since the arrest and transfer of Gotovina to The Hague in late 2005, Croatia continues to cooperate fully with the ICTY.
Croatia was admitted on May 25, 2000 into the Partnership for Peace program--which was designed by North Atlantic Treaty Organization (NATO) member states in 1994 to strengthen Euro-Atlantic security--and, in May 2002, was welcomed into NATO's Membership Action Program, a key step toward NATO membership. On May 2, 2003, the United States joined Croatia, Albania, and Macedonia to sign the Adriatic Charter, in which the three NATO aspirants pledged their commitment to NATO values and their cooperative efforts to further their collective NATO aspirations. The United States continues to work with the aspirants, collectively as well as bilaterally, as they continue with their necessary reforms for eventual consideration for NATO membership.
Croatia has been a member of the United Nations since 1992, and contributes troops to 10 UN operations including those in Haitii, Cyprus, Georgia, Sierra Leone, Ethiopia and Eritrea, and Kashmir. Since 2003, Croatia has sent a military police unit to support the International Stabilization Assistance Force in Afghanistan. Croatia is a member of the World Trade Organization and the Central European Free Trade Organization.
While Croatia has made progress on dealing with a number of post-conflict issues, the status of refugees displaced during the 1991-95 war and resolution of border disputes with Slovenia remain key issues influencing Croatia's relations with its neighbors and the international community.
U.S.-CROATIAN RELATIONS
U.S. engagement in Croatia is aimed at fostering a democratic, secure, and market-oriented society that will be a strong partner in Euro-Atlantic institutions. The United States opened its Embassy in Zagreb in 1992, and has continued to work with Croatia to overcome the legacies of communism, war, ethnic division, and authoritarian government.
In an effort to promote regional stability through refugee returns, the United States has given more than $13.4 million since 1998 in humanitarian demining assistance. Croatia hopes to remove an estimated one million remaining mines by 2010. The United States also has provided additional financial assistance to Croatia through the Southeastern European Economic Development Program (SEED) to facilitate democratization and restructuring of Croatia's financial sector. Croatia is scheduled to graduate from the SEED program in 2008.
Principal U.S. Embassy Officials
Ambassador--Ralph Frank
Deputy Chief of Mission--Gregory Delawie
Consular Officer--Carolyn Gorman
Public Affairs Officer-- Conrad Turner
Commercial Officer--Thomas Kelsey
Agency for International Development--Bill Jeffers
Management Officer--Matthew Weiller
The U.S. Embassy in Croatia is located in Zagreb at Ul. Thomasa Jeffersona 2, 10010 Zagreb; telephone: [385] (1) 661-2200.