PROFILE
OFFICIAL NAME:
Kingdom of Norway
Geography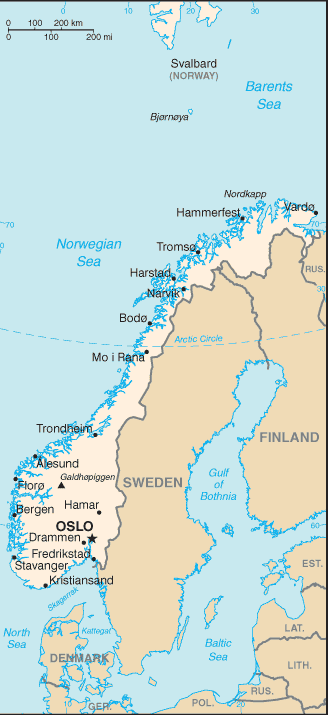 Area* (including the island territories of Svalbard and Jan Mayen): 385,155 sq. km. (approx 150,000 sq. mi.); slightly larger than New Mexico.
Cities* (2004): Capital--Oslo (pop. 521,886). Other cities--Bergen (237,430), Trondheim (154,351), Stavanger (112,405).
Terrain: Rugged with high plateaus, steep fjords, mountains, and fertile valleys.
Climate: Temperate along the coast, colder inland.
*(Source: Central Bureau of Statistics Norway 2004).
People
Nationality: Noun and adjective--Norwegian(s).
Population (2005 est.): 4,593,041.
Annual growth rate (2005): 0.41%.
Density: Approx. 15 per sq. km.
Ethnic groups: Norwegian (Nordic, Alpine, Baltic), Sami, a racial-cultural minority of 20,000; foreign nationals (315,147) from Nordic and other countries.
Religion (2004): Church of Norway (Lutheran), 85.7%; Pentecostal Christian, 1%; Roman Catholic, 1%; Other Christian, 2.4%; Muslim, 1.8%; other, none, or unknown, 8.1%.
Languages: Bokmaal Norwegian (official), Nynorsk Norwegian (official), small Sami- and Finnish-speaking minorities, English is widely spoken.
Education: Years compulsory--10. Literacy--100%.
Health: Infant mortality rate (2004)--3.73/1,000. Life expectancy (2004 est.)--men 76.78 yrs; women 82.17 yrs.
Work force (2004, 2.38 million): Government, social, personal services--37.6%; wholesale and retail trade, hotels, restaurants--17.5%; manufacturing and mining--12.7%; transport and communications--7.4%; financing, insurance, real estate, business services--12%; agriculture, forestry, fishing--3.9%; construction--6.7%; oil extraction--1.4%.
Government
Type: Hereditary constitutional monarchy.
Independence: 1905.
Constitution: May 17, 1814.
Branches: Executive--king (chief of state), prime minister (head of government), Council of Ministers (cabinet). Legislative--modified unicameral parliament (Storting). Judicial--Supreme Court, appellate courts, city and county courts.
Political parties: Labor, Progress, Conservative, Socialist Left, Christian Democratic, Center, Liberal.
Suffrage: Universal over 18.
Administrative subdivisions: 19 fylker (counties), and Svalbard.
National holiday: May 17.
Economy (Source: CIA World Factbook 2005)
GDP (2004 est.): $183 billion.
Annual growth rate (2004 est.): 0.4%.
Per capita GDP (2004 est.): Purchasing power parity $40,000.
Natural resources: Oil, gas, fish, timber, hydroelectric power, mineral ores.
Arable land: 3%.
Agriculture: Products--dairy, livestock, grain (barley, oats, wheat), potatoes and other vegetables, fruits and berries, furs, wool.
Industry: Types--food processing, pulp and paper, ships, aluminum, ferroalloys, iron and steel, nickel, zinc, nitrogen, fertilizers, transport equipment, hydroelectric power, refinery products, petrochemicals, electronics.
Trade (2004): Exports (f.o.b.)--$76.64 billion. Major markets: U.K., Germany, France, Netherlands, U.S. (2004, 8.4%), Sweden. Imports (f.o.b.)--$45.96 billion. Major suppliers: Sweden, Germany, Denmark, U.K., U.S. (2004, 4.9%), France, Netherlands.
GDP by activity (2003): Agriculture, hunting, forestry, fishing, and fish farming--1.9%; Oil and gas extraction incl. services and mining and quarrying--12.3%; Manufacturing--18.2%; Electricity, gas, and water supply--2.0%; Construction--6.4%; Wholesale and retail trade, motor vehicle repair, hotels and restaurants--10.7%; Transport industries--9.7%; Post and telecommunications, financial intermediation, dwellings, business services--20.6%; Public administration and defense--4.8%; Education, health and social work, and other social and personal services--13.4%
PEOPLE
Ethnically, Norwegians are predominantly Germanic, although in the far north there are communities of Sami who came to the area more than 10,000 years ago, probably from central Asia. In recent years, Norway has become home to increasing numbers of immigrants, foreign workers, and asylum-seekers from various parts of the world. Immigrants now total over 300,000; some have obtained Norwegian citizenship.
Although the Evangelical Lutheran Church is the state church, Norway has complete religious freedom. Education is free through the university level and is compulsory from ages 6 to 16. At least 12 months of military service and training are required of every eligible male. Norway's health system includes free hospital care, physician's compensation, cash benefits during illness and pregnancy, and other medical and dental plans. There is a public pension system.
Norway is in the top rank of nations in the number of books printed per capita, even though Norwegian is one of the world's smallest language groups. Norway's most famous writer is the dramatist Henrik Ibsen. Artists Edvard Munch and Christian Krogh were Ibsen's contemporaries. Munch drew part of his inspiration from Europe and in turn exercised a strong influence on later European expressionists. Sculptor Gustav Vigeland has a permanent exhibition in the Vigeland Sculpture Park in Oslo. Musical development in Norway since Edvard Grieg has followed either native folk themes or, more recently, international trends.
HISTORY
The Viking period (9th to 11th centuries) was one of national unification and expansion. The Norwegian royal line died out in 1387, and the country entered a period of union with Denmark. By 1586, Norway had become part of the Danish Kingdom. In 1814, as a result of the Napoleonic wars, Norway was separated from Denmark and combined with Sweden. The union persisted until 1905, when Sweden recognized Norwegian independence.
The Norwegian Government offered the throne of Norway to Danish Prince Carl in 1905. After a plebiscite approving the establishment of a monarchy, the Parliament unanimously elected him king. He took the name of Haakon VII, after the kings of independent Norway. Haakon died in 1957 and was succeeded by his son, Olav V, who died in January 1991. Upon Olav's death, his son Harald was crowned as King Harald V.
Norway was a nonbelligerent during World War I, but as a result of the German invasion and occupation during World War II, Norwegians generally became skeptical of the concept of neutrality and turned instead to collective security. Norway was one of the signers of the North Atlantic Treaty in 1949 and was a founding member of the United Nations. The first UN General Secretary, Trygve Lie, was a Norwegian. Under the terms of the will of Alfred Nobel, the Storting (Parliament) elects the five members of the Norwegian Nobel Committee who award the Nobel Peace Prize to champions of peace.
GOVERNMENT
The functions of the king are mainly ceremonial, but he has influence as the symbol of national unity. Although the 1814 constitution grants important executive powers to the king, these are almost always exercised by the Council of Ministers in the name of the king (King's Council). The Council of Ministers consists of a prime minister--chosen by the political parties represented in the Storting--and other ministers.
The 169 members of the Storting are elected from 19 fylker (counties) for 4-year terms according to a complicated system of proportional representation. After elections, the Storting divides into two chambers, the Odelsting and the Lagting, which meet separately or jointly depending on the legislative issue under consideration.
The special High Court of the Realm hears impeachment cases; the regular courts include the Supreme Court (17 permanent judges and a president), courts of appeal, city and county courts, the labor court, and conciliation councils. Judges attached to regular courts are appointed by the king in council after nomination by the Ministry of Justice.
Each fylke is headed by a governor appointed by the king in council, with one governor exercising authority in both Oslo and the adjacent county of Akershus.
POLITICAL CONDITIONS
Until the 1981 election, Norway had been governed by majority Labor Party governments since 1935, except for three periods (1963, 1965-71, and 1972-73). The Labor Party lost its majority in the Storting in the 1981 elections. Since that time, minority and coalition governments have been the rule.
From 1981 to 1997, governments alternated between Labor minority governments and Conservative-led coalition governments. The first government coalition led by Christian Democrat Kjell Magne Bondevik came to power in 1997, but fell in March 2000 over the issue of proposed gas-fired power plants, opposed by Bondevik due to their impact on climate change. The Labor Party's Jens Stoltenberg, a Brundtland protégé, took over in a minority Labor government but lost power in the September 2001 election when Labor posted its worse performance since World War I. Bondevik once again became Prime Minister, this time as head of a minority government with the Conservatives and Liberals in a coalition heavily dependent upon the right-populist Progress Party.
The September 2005 elections ended the Bondevik government, and the Labor party came back with its most substantial victory in years, securing 60 of the 169 seats in Parliament. While this election result once more made Labor the undisputed heavyweight in Norwegian politics, Stoltenberg, chastened by his previous stint as the head of a minority government, reached out to the far left Socialist Left party and agrarian Center party to form a coalition government that commanded a majority of seats in Parliament. The current government is the first majority government in Norway in over 20 years, but the governing coalition has had to bridge substantial policy differences to build this majority.
Principal Government Officials
King--Harald V
Prime Minister--Jens Stoltenberg
Minister of Foreign Affairs--Jonas Gahr Støre
Minister of Defense--Anne-Grethe Strøm Erichsen
Ambassador to the United States--Knut Vollebaek
Ambassador to NATO--Kai Eide
Ambassador to the United Nations--Johan Ludvik Løvald
Norway maintains an embassy in the United States at 2720 - 34th Street NW, Washington, DC 20008 (tel. 202-333-6000) and consulates in Houston, Minneapolis, New York, and San Francisco.
ECONOMY
Norway is one of the world's richest countries in per capita terms. It has an important stake in promoting a liberal environment for foreign trade. Its large shipping fleet is one of the most modern among maritime nations. Metals, pulp and paper products, chemicals, shipbuilding, and fishing are the most significant traditional industries.
Norway's emergence as a major oil and gas producer in the mid-1970s transformed the economy. Large sums of investment capital poured into the offshore oil sector, leading to greater increases in Norwegian production costs and wages than in the rest of western Europe up to the time of the global recovery of the mid-1980s. The influx of oil revenue also permitted Norway to expand an already extensive social welfare system. Norway has established a state Petroleum Fund that exceeded $132.6 billion as of December 2004. The fund primarily will be used to help finance government programs once oil and gas resources become depleted. Norway is currently enjoying large foreign trade surpluses thanks to high oil prices. Unemployment remains currently low (3%-4% range), and the prospects for economic growth are encouraging thanks to the government's stimulative fiscal policy and economic recovery in the United States and Europe.
Norway voted against joining the European Union (EU) in a 1994 referendum. With the exception of the agricultural and fisheries sectors, however, Norway enjoys free trade with the EU under the framework of the European Economic Area. This agreement aims to apply the four freedoms of the EU's internal market (goods, persons, services, and capital) to Norway. As a result, Norway normally adopts and implements most EU directives. Norwegian monetary policy is aimed at maintaining a stable exchange rate for the krone against European currencies, of which the euro is a key operating parameter. Norway is not a member of the EU's Economic and Monetary Union and does not have a fixed exchange rate. Its principal trading partners are in the EU; the United States ranks sixth.
Energy Resources
Offshore hydrocarbon deposits were discovered in the 1960s, and development began in the 1970s. The growth of the petroleum sector has contributed significantly to Norwegian economic vitality. Current petroleum production capacity is more than 3 million barrels per day. Production has increased rapidly during the past several years as new fields are opened. Total production in 2003 was about 263 million cubic meters of oil equivalents, over 63% of which was crude oil. This represents a slight decline in crude oil production over the past year, accompanied by sharp increases in gas and liquefied natural gas (LNG) production. Hydropower provides nearly all of Norway's electricity, and all of the gas and most of the oil produced is exported. Production increased significantly in the 1990s as new fields come on stream.
Norway is the world's third-largest oil exporter and provides much of western Europe's crude oil and gas requirements. In 2003, Norwegian oil and gas exports accounted for 56% of total merchandise exports. In addition, offshore exploration and production have stimulated onshore economic activities. Foreign companies, including many American ones, participate actively in the petroleum sector.
FOREIGN RELATIONS
Norway supports international cooperation and the peaceful settlement of disputes, recognizing the need for maintaining a strong national defense through collective security. Accordingly, the cornerstones of Norwegian policy are active membership in the North Atlantic Treaty Organization (NATO) and support for the United Nations and its specialized agencies. Norway also pursues a policy of economic, social, and cultural cooperation with other Nordic countries--Denmark, Sweden, Finland, and Iceland--through the Nordic Council.
In addition to strengthening traditional ties with developed countries, Norway seeks to build friendly relations with developing countries and has undertaken humanitarian and development aid efforts with selected African and Asian nations. Norway also is dedicated to encouraging democracy, assisting refugees, and protecting human rights throughout the world.
U.S.-NORWAY RELATIONS
The United States and Norway enjoy a long tradition of friendly association. The relationship is strengthened by the millions of Norwegian-Americans in the United States and by about 10,000 U.S. citizens who reside in Norway. The two countries enjoy an active cultural exchange, both officially and privately.
Principal U.S. Officials
Ambassador--Benson K. Whitney
Deputy Chief of Mission--Christopher W. Webster
Counselor for Political-Economic Affairs--Mike Hammer
Counselor for Public Affairs--James Ellickson-Brown
Management Officer--James K. Stiegler
Chief, Consular Section--Maria Silver
Senior Commercial Officer--vacant
Defense Attache--Col. Richard Harris
Labor Attache--Ned Nyman
Regional Security Officer--Colin Sullivan
The U.S. Embassy is located at Drammensveien 18, 0244 Oslo (tel. 47-22- 44- 85-50; FAX: 47-22-43-07-77).