PROFILE
OFFICIAL NAME:
Republic of Moldova
Geography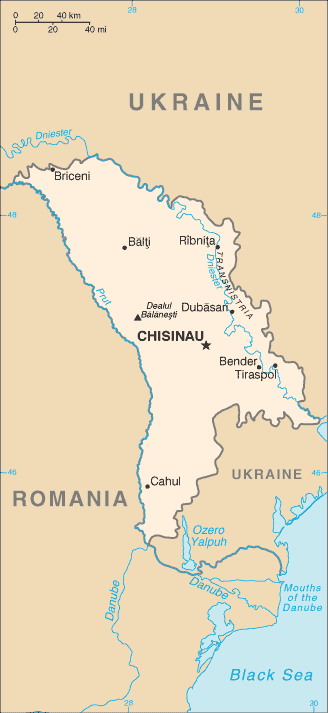 Area: 33,843 sq. km. (13,000 sq. mi.); slightly larger than Maryland.
Cities: Capital--Chisinau.
Terrain: Rolling steppe, gradual slope south to Black Sea.
Climate: Moderate winters, warm summers.
Time Zone: GMT+2
People
Nationality: Noun--Moldovan(s). Adjective--Moldovan.
Population (preliminary 2004 census): 3.36 million, excluding the estimated Transnistrian population of 580,000. Population growth rate: -0.3% (est.).
Ethnic groups (1989 est.): Moldovan/Romanian (65%), Ukrainian (13.8%), Russian (13%), Gagauz (3.5%), Jewish (1.5%), Bulgarian (2%), other (1.7%).
Main religions: Christian Orthodox (98%), Jewish, Baptist.
Languages: Romanian (officially known as Moldovan), Russian, Ukrainian, Gagauz.
Education: Literacy--96%.
Health: Infant mortality rate--44/1,000. Life expectancy--67 years.
Work force (2 million): Agriculture--35%; industry--20%; other--45%.
Government
Type: Republic.
Constitution: Adopted July 28, 1994.
Independence: August 27, 1991 (from Soviet Union).
Branches: Executive--President (head of state), Prime Minister (head of Government), Government (cabinet). Legislative--unicameral Parliament. Judicial--Supreme Court.
Administrative subdivisions: 32 counties (raions), 4 municipalities, and one autonomous territorial unit.
Political parties: Communist Party, Popular Christian Democratic Party, Our Moldova Alliance, Democratic Party, Social Liberal Party, and Social-Democratic Party.
Suffrage: Universal at 18.
Economy
GDP (2004 est.): $2.6 billion ($2.0 billion in 2003; $1.6 billion in 2002; $1.5 billion in 2001).
GDP real growth rate (January-September 2004): 5.7% (6.3% in 2003; 7.2% in 2002; 6.1% in 2001).
Per capita GDP (2004 est.): $760 ($540 in 2003: $448 in 2002; $422 in 2001).
Natural resources: Lignite, phosphates, gypsum, arable land, and limestone.
Agriculture: Products--vegetables, fruits, wine and spirits, grain, sugar beets, sunflower seeds, meat, milk, eggs, tobacco, walnuts.
Industry: Types--processed foods and beverages, including wine and refined sugar; processed fruit and vegetable products, including vegetable oil; dairy and meat products; tobacco items; metal processing and production of machinery; textiles and clothing, shoes; furniture.
Trade (2003): Exports--$790 million (of which 46% go to countries outside the former Soviet Union): foodstuffs, wine, textiles, clothing, footwear and machinery. Major markets--Russia, Romania, Italy, Ukraine, Germany. Imports--$1,403 million (of which 58% come from countries outside the former Soviet Union): gas, oil, coal, steel, machinery and equipment, chemical products, textiles, foodstuffs, automobiles, and other consumer durables. Major suppliers--Ukraine, Russia, Germany, Italy, Romania.
Currency: Moldovan Leu (plural Lei).
Exchange rate: Lei/US$ (2004): 12.33; 12.46 (end of year); (13.94 average in 2003); (13.57 average in 2002)
PEOPLE AND HISTORY
Ethnic groups represented in Moldova include Moldovan/Romanian, Ukrainian, Russian, Gagauz, and Bulgarian. Romanian (officially known as Moldovan) is the official language; Russian, Ukrainian, and Gagauz also are spoken. The great majority of Moldova's population is Christian Orthodox -- 90% of the population nominally belongs to one of the two main Orthodox denominations. The Moldovan Orthodox Church, an autonomous diocese of the Russian Orthodox Church and loyal to the Patriarch of Moscow, has 1,194 parishes; the Bessarabian Orthodox Church, affiliated with the Romanian Orthodox Patriarchate in Bucharest, has 124 parishes. In addition, followers of the Old Rite Russian Orthodox Church (Old Believers) make up approximately 3.6% of the population.
The Republic of Moldova occupies most of what has been known as Bessarabia. Moldova's location has made it a historic passageway between Asia and southern Europe, as well as the victim of frequent warfare. Greeks, Romans, Huns, and Bulgars invaded the area, which in the 13th century became part of the Mongol empire. An independent Moldovan state emerged briefly in the 14th century under celebrated leader Stefan the Great but subsequently fell under Ottoman Turkish rule in the 16th century.
After the Russo-Turkish War of 1806-12, the eastern half of Moldova (Bessarabia) between the Prut and the Dniester Rivers was ceded to Russia, while Romanian Moldavia (west of the Prut) remained with the Turks. Romania, which gained independence in 1878, took control of Russian-ruled Bessarabia in 1918. The Soviet Union never recognized the action and created an autonomous Moldavian republic on the east side of the Dniester River in 1924.
In 1940, Romania was forced to cede Bessarabia to the Union of Soviet Socialist Republics (U.S.S.R.), which established the Moldavian Soviet Socialist Republic by merging the autonomous republic east of the Dniester and the annexed Bessarabian portion. Stalin also stripped the three southern counties along the Black Sea coast from Moldova and incorporated them in the Ukrainian Soviet Socialist Republic. Romania sought to regain Bessarabia by joining with Germany in the 1941 attack on the Soviet Union. However, Moldova was ceded back to Moscow when hostilities between the U.S.S.R. and Romania ceased at the end of World War II. The present boundary between Moldova and Romania was established in 1947.
In September 1990, the Supreme Soviet elected Mircea Snegur as President of the Soviet Socialist Republic of Moldova. A former Communist Party official, he endorsed independence from the Soviet Union and actively sought Western recognition. On May 23, 1991, the Supreme Soviet renamed itself as the Parliament of the Republic of Moldova, which subsequently declared its independence from the U.S.S.R.
In August 1991, Moldova's transition to democracy initially had been impeded by an ineffective Parliament, the lack of a new constitution, a separatist movement led by the Gagauz (Christian Turkic) minority in the south, and unrest in the Transnistria region on the left bank of the Nistru/Dniester River, where a separatist movement declared a "Transdniester Moldovan Republic" in September 1990. The Russian 14th Army intervened to stem widespread violence and support the Transnistrian regime which is led by supporters of the 1991 coup attempt in Moscow. In 1992, the government negotiated a cease-fire arrangement with Russian and Transnistrian officials, although tensions continue, and negotiations are ongoing. In February 1994, new legislative elections were held, and the ineffective Parliament that had been elected in 1990 to a 5-year term was replaced. A new constitution was adopted in July 1994. The conflict with the Gagauz minority was defused by the granting of local autonomy in 1994.
GOVERNMENT AND POLITICAL CONDITIONS
In 2000, Parliament passed a decree making Moldova a parliamentary republic, with the president elected by Parliament instead of by popular vote. Widespread popular dissatisfaction with previous governments and economic hardship led to a surprise at the polls in February 2001. In elections certified by international observers as free and fair, slightly over half of Moldova's voters cast their ballots for the Communist Party. Under the rules of Moldova's proportional representation system, the Communist faction, which in the previous Parliament consisted of 40 of Parliament's 101 seats, jumped to 71 -- a clear majority. The Parliament then elected the leader of the Communist faction, Vladimir Voronin, to be President.
President Voronin's first term was marked by up and down relations with the International Monetary Fund (IMF) and the World Bank. Politically, the government was committed to the reduction of poverty by allocating more resources to social safety net items such as health, education, and increasing pensions and salaries. Voronin proceeded with former President Lucinschi's plans to privatize several important state-owned industries and even on occasion broke with his own party over important issues. Under President Voronin, relations with the United States have remained strong. From January to April 2002, large demonstrations took place in opposition to several controversial government proposals, including expanded use of the Russian language in schools and its designation as an official language. While the demonstrations were sometimes tense, the government did not use force and ultimately agreed to Council of Europe (CoE) mediation.
In March 2005 parliamentary elections, the Communist Party received 46.1% of the vote, or 56 seats in the 101-member Parliament -- more than enough for the 51-vote minimum required to form a government, but short of the 61 votes necessary to elect a president. However, President Voronin was re-elected with support from the Christian Democratic Popular Party and from the Democratic and Social Liberal party factions, after Voronin promised to deliver on needed reforms and Euro-Atlantic integration for the country. Those factions broke away from the Moldovan Democratic Bloc following the elections, leaving the Our Moldova Alliance (AMN) of former Chisinau Mayor Serafim Urechean as the second-largest party in Parliament with 26 seats.
Local elections in May and June 2003 -- the first nationwide contests since the Communists came to power -- did not meet the relatively high electoral standards set in previous Moldovan elections, according to international observers. While the voting itself generally met international standards, the government's behavior in the campaign period -- including bias in state media, misuse of administrative resources, and the arrests of two opposition mayors -- represented a step backward. The Communists won the largest share of votes, but lost in the country's highest-profile race, for mayor of Chisinau. Former Mayor and AMN leader Serafim Urechean decided to give up his mayoral seat to retain his mandate as an elected parliamentarian in the March 2005 elections, as Moldovan legislation prohibits holding both positions simultaneously. Early mayoral elections for Chisinau were held in July 2005 but were invalid due to low turnout.
In addition to state-sponsored media, there are several independent newspapers, radio and television stations, and news services. The independent media organizations, along with some that are affiliated with political parties, often criticize government policies. In August 2004, Teleradio Moldova (TRM) was officially transformed from a state-owned company into a public broadcaster. However, journalists and civil society representatives, who claimed the process was nontransparent and meant to stack the new TRM staff with those favorable to the government, met this move with large protests. Peaceful assembly is allowed, though permits for demonstrations must be obtained; private organizations, including political parties, are required to register with the government. Legislation passed in 1992 codified freedom of religion but required that religious groups register with the government.
Transnistria
The population of the Moldovan region of Transnistria is approximately 40% Romanian/Moldovan, 28% Ukrainian, and 23% Russian. Separatist forces maintain control of the Transnistrian region, which lies along the Ukrainian border. Moldova has tried to meet the Russian minority's demands by offering the region rather broad cultural and political autonomy. The dispute has strained Moldova's relations with Russia. The July 1992 cease-fire agreement established a tripartite peacekeeping force comprised of Moldovan, Russian, and Transnistrian units.
Negotiations to resolve the conflict continue, and the cease-fire is still in effect. The Organization for Security and Cooperation in Europe (OSCE) is trying to facilitate a negotiated settlement and has had an observer mission in place for several years. In July 2002, OSCE, Russian, and Ukrainian mediators approved a document setting forth a blueprint for reuniting Moldova under a federal system. Over the next year and a half, the settlement talks alternated between periods of forward momentum and periods of no progress. In February 2003, the U.S. and EU imposed visa restrictions against the Transnistrian leadership. In April 2003, the Moldovan Government and the Transnistrian authorities agreed to establish a joint commission to draft a constitution for a reintegrated state. However, fundamental disagreements over the division of powers remained, and a settlement proved elusive.
In May 2003, Ukraine and Moldova reached an agreement under which Ukraine would no longer recognize Moldova's obsolete customs stamps, which were still being used by the Transnistrians; in reality, however, the Moldovans exercise little control over their border with Ukraine and illegal trade remains an issue in the region. Moldova has continued to call for international monitoring of the border.
In a surprise move, President Voronin decided not to sign a Russian-brokered settlement with Transnistria in November 2003. The appearance of the Russian proposal -- seen by many as pro-Transnistrian -- was enough to set off a brief wave of opposition protests. The potential for continued protest over these contentious issues remains. During the summer of 2004, the Transnistrian separatists forcibly closed Romanian language Latin-script schools. These actions were internationally condemned, and the OSCE Mission to Moldova mediated a solution to the crisis; however, negotiations on the larger conflict have since come to a standstill.
Russia has failed to remove weapons and munitions of the Operational Group of Russian Forces (formerly the Russian 14th Army) stationed in Transnistria, as required under the timetable set forth in the 1999 Istanbul Accords, and this process remained stalled throughout 2004.
Principal Government Officials
President--Vladimir Voronin
Prime Minister--Vasile Tarlev
President of Parliament--Marian Lupu
Foreign Minister--Andrei Stratan
Ambassador to the United States--Mihai Manoli
Ambassador to the United Nations--Vsevolod Grigore
Moldova's embassy in the United States is at 2101 S Street NW, Washington, DC 20008 (tel: 202-667-1130; fax 202-667-1204).
More information about Moldova can be found at the official (Romanian and Russian language) Government of Moldova website at www.moldova.md. The Moldova.org site is maintained by the Moldova Foundation, a non-governmental organization, and has some useful links.
ECONOMY
Moldova remains the poorest country in Europe. It is landlocked, bounded by Ukraine on the east and Romania to the west. It is the second smallest of the former Soviet republics and the most densely populated. Industry accounts for only 20% of its labor force, while agriculture's share is more than one-third.
Moldova's proximity to the Black Sea gives it a mild and sunny climate. This makes the area ideal for agriculture and food processing, which accounts for about 40% of the country's GDP. The fertile soil supports wheat, corn, barley, tobacco, sugar beets, and soybeans. Beef and dairy cattle are raised, and beekeeping is widespread. Moldova's best-known product comes from its extensive and well-developed vineyards concentrated in the central and southern regions. In addition to world-class wine, Moldova produces liqueurs and champagne. It is also known for its sunflower seeds, walnuts, apples, and other fruits.
Like many other former Soviet republics, Moldova has experienced economic difficulties. Since its economy was highly dependent on the rest of the former Soviet Union for energy and raw materials, the breakdown in trade following the breakup of the Soviet Union had a serious effect, exacerbated at times by drought and civil conflict. The Russian ruble devaluation of 1998 had a deleterious effect on Moldova's economy, but economic growth has been steady since 2000.
Moldova has made progress in economic reform since independence. The government has liberalized most prices and has phased out subsidies on most basic consumer goods. A program begun in March 1993 has privatized 80% of all housing units and nearly 2,000 small, medium, and large enterprises. Other successes include the privatization of nearly all of Moldova's agricultural land from state to private ownership, as a result of an American assistance program, "Pamint" ("land"), completed in 2000. A stock market opened in June 1995.
Inflation was brought down from over 105% in 1994 to 11% in 1997. Though inflation spiked again after Russia's 1998 currency devaluation, Moldova made great strides in bringing it under control: 18.4% in 2000, 6.3% in 2001, and 4.4% in 2002. In 2003 inflation escalated again -- due mainly to a drought-driven rise in agricultural prices -- reaching 15.7%, although it was reined in to 12.5 % in 2004. The local currency appreciated considerably in 2003 and the first months of 2004. By May, the leu had reached its highest level since the end of 1999. After the National Bank of Moldova increased considerably its purchases on the foreign exchange market, the leu stabilized in November-December 2004 at 12.00-12.50 to the U.S. dollar.
Moldova continues to make progress toward developing a viable free-market economy. The country recorded its fifth consecutive year of positive GDP growth in 2004, with year-end real GDP growth of 8%. This growth is impressive considering that, prior to 2000, Moldova had recorded only one year of positive GDP growth since independence. Budget execution in 2004 was also impressive, as actual consolidated budget revenues exceeded projections by 1.4% for most of the year.
Privatization results in 2004 were not significant: several smaller companies and one winery were privatized in 2004, but the government postponed indefinitely the privatization of several larger state enterprises, including two electricity distribution companies. Sporadic and ineffective enforcement of the law, economic and political uncertainty, and government harassment and interference continue to discourage inflows of foreign direct investment.
Imports continued to increase more rapidly than exports during the first nine months of 2004; Moldova's terms of trade worsened, as higher-priced energy imports outpaced the value of Moldova's main exports--agricultural and agro-processing goods.
During 2002, Moldova rescheduled an outstanding Eurobond, in the amount of $39.6 million, to avoid a potential default. In May 2004, Moldova redeemed promissory notes with a total value of $114.5 million to Russian Gazprom for just $50 million. Moldova informed its bilateral creditors in mid-2003 that it would no longer service its debts. The 2004 budget did provide funds for external debt service (interest) at some 6% of the government budget; the 2005 budget projects external debt service at some 4%. The International Monetary Fund (IMF) and World Bank resumed lending to Moldova in July 2002, and then suspended lending again in July 2003. Although Moldova passed a Poverty Reduction Strategy in 2004, it has yet to reach an agreement with international financial institutions.
DEFENSE AND MILITARY ISSUES
Moldova has accepted all relevant arms control obligations of the former Soviet Union. On October 30, 1992, Moldova ratified the Conventional Armed Forces in Europe Treaty, which establishes comprehensive limits on key categories of conventional military equipment and provides for the destruction of weapons in excess of those limits. It acceded to the provisions of the nuclear Non-Proliferation Treaty in October 1994 and to the Biological Weapons Convention in December 2004. It does not have nuclear, biological, or chemical weapons. Moldova joined the North Atlantic Treaty Organization's Partnership for Peace on March 16, 1994. Due to Moldova's constitutional neutrality, it is not a participant in the Commonwealth of Independent States (CIS--a group of 12 former Soviet republics) Collective Security Agreement.
FOREIGN RELATIONS
Moldova's Parliament approved the country's membership in the Commonwealth of Independent States and a CIS charter on economic union in April 1994.
In 1995, the country became the first former Soviet republic admitted to the Council of Europe. In addition to its membership in NATO's Partnership for Peace, Moldova also belongs to the United Nations, the OSCE, the North Atlantic Cooperation Council, the International Monetary Fund, the World Bank, and the European Bank for Reconstruction and Development. Moldova is a member of the World Trade Organization (WTO).
In 1998, Moldova contributed to the founding of GUAM, a regional cooperative agreement made up of Georgia, Ukraine, and Azerbaijan, in addition to Moldova. Although the agreement initially included a declaration of mutual defense, Moldova has since declared its disinterest in participating in any GUAM-based mutual defense initiative. Moldova has been involved in information exchange, trade and transportation, border control, and energy projects issues within this regional agreement.
In the atmosphere of heightened international sensitivity to terrorism following the events of September 11, 2001, Moldova has been a supporter of American efforts to increase international cooperation in combating terrorism. Moldova has sent demining units and peacekeepers to participate in post-conflict humanitarian assistance in Iraq.
U.S.-MOLDOVAN RELATIONS
The dissolution of the Soviet Union in December 1991 brought an end to the Cold War and created the opportunity to build bilateral relations with the 15 new states that had made up the former U.S.S.R., as they began political and economic transformation. The United States recognized the independence of Moldova on December 25, 1991 and opened an Embassy in its capital, Chisinau, in March 1992. The current U.S. Ambassador to Moldova, Heather M. Hodges, arrived at post in October 2003.
A trade agreement providing reciprocal most-favored-nation tariff treatment became effective in July 1992. An Overseas Private Investment Corporation agreement, which encourages U.S. private investment by providing direct loans and loan guarantees, was signed in June 1992. A bilateral investment treaty was signed in April 1993. Generalized system of preferences status was granted in August 1995, and some Eximbank coverage became available in November 1995.
[Fact sheet on FY 2005 U.S. Assistance to Moldova.]
Principal U.S. Embassy Officials
Ambassador--Heather M. Hodges
Deputy Chief of Mission--John Winant
Consular Officer--Marlin Hardinger
Management Officer--Charles Eaton
Political/Economic Officers--H. Martin McDowell, J. Larry Wright
Public Affairs Officer--Aleisha Woodward
Regional Security Officer--Cameron Burks
USAID Officer--John Starnes
The U.S. Embassy in Moldova is at Strada Alexei Mateevici #103, Chisinau (tel: 373-22-40-83-00/23-37-72; fax: 373-22-23-30-44).