PROFILE
OFFICIAL NAME:
Aruba
Geography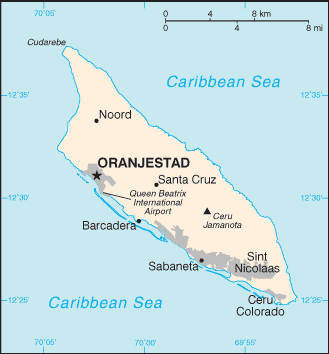 Area: 180 sq. km. (112 sq. mi.).
Cities: Capital--Oranjestad (pop. 60,000, 2003).
Terrain: Flat with a few hills; scant vegetation.
Climate: Subtropical.
People
Nationality: Noun and adjective--Aruban(s).
Population (2004): 97,518.
Annual growth rate: 3.57%.
Ethnic groups: Mixed white/Caribbean Amerindian 80%.
Religion: Roman Catholic 81%, Protestant 3%, Hindu, Muslim, Methodist, Anglican, Adventist, Evangelist, Jehovah's Witness, Jewish.
Languages: Dutch (official); Papiamento, Spanish, and English also are spoken.
Education: Literacy--97%.
Health: Infant mortality rate--5.2/1,000. Life expectancy--75 years for men, 81.9 years for women.
Work force (41,501): Most employment is in wholesale and retail trade and repair, followed by hotels and restaurants and oil refining. Unemployment--about 7.3% (2004).
Government
Type: Parliamentary democracy.
Independence: Part of the Kingdom of the Netherlands.
Branches: Executive--monarch represented by a governor (chief of state), prime minister (head of government), Cabinet. Legislative--unicameral parliament. Judicial--Joint High Court of Justice appointed by the monarch.
Subdivisions: Aruba is divided into eight regions--Noord/Tank Leendert, Oranjestad (west), Oranjestad (east), Paradera, Santa Cruz, Savaneta, Sint Nicolaas (north), and Sint Nicolaas (south).
Political parties: Aruba Patriotic Movement (MPA), Aruban Socialist Movement (Aliansa), Aruban Liberal Party (OLA), Patriotic Party of Aruba (PPA), Aruban People's Party (AVP), Concentration for the Liberation of Aruba (CLA), People's Electoral Movement Party (MEP), Democratic Network (RED), Real Democracy, Workers Political Platform (PPT), Summum Bonum.
Suffrage: Universal at 18 years.
Economy
GDP (2004): $2.145 billion.
Growth rate (2004): 3.5%.
Per capita GDP (2004): $21,878.
Natural resources: Beaches. Tourism/services and oil refining are dominant factors in GDP.
Trade: Exports--$3.48 billion (f.o.b., including oil re-exports, 2002): oil products, live animals and animal products, art and collectibles, machinery and electrical equipment, transport equipment. Major markets--U.S. (40.4%), Venezuela (19.9%), Netherlands (10.2%), Netherlands Antilles (14.8%). Imports--$1.5 billion: crude petroleum, food, manufactures. Major suppliers--U.S. (60.4%), Netherlands (12.7%), Netherlands Antilles (3.3%).
PEOPLE AND HISTORY
Aruba's first inhabitants were the Caquetios Indians from the Arawak tribe. Fragments of the earliest known Indian settlements date back to about 1000 A.D. Spanish explorer Alonso de Ojeda is regarded as the first European to arrive in about 1499. The Spanish garrison on Aruba dwindled following the Dutch capture of nearby Bonaire and Curacao in 1634. The Dutch occupied Aruba shortly thereafter, and retained control for nearly two centuries. In 1805, during the Napoleonic wars, the English briefly took control over the island, but it was returned to Dutch control in 1816. A 19th-century gold rush was followed by prosperity brought on by the opening in 1924 of an oil refinery. The last decades of the 20th century saw a boom in the tourism industry. In 1986 Aruba seceded from the Netherlands Antilles and became a separate, autonomous member of the Kingdom of the Netherlands. Movement toward full independence was halted at Aruba's prerogative in 1990. Aruba has a mixture of people from South America and Europe, the Far East, and other islands of the Caribbean.
GOVERNMENT
Part of the Kingdom of the Netherlands, Aruba has full autonomy on all internal affairs with the exception of defense, foreign affairs, and some judicial functions. The constitution was enacted in January 1986. Executive power rests with a governor while a prime minister heads an eight-member Cabinet. The governor is appointed for a 6-year term by the monarch, and the prime minister and deputy prime minister are elected by the Staten, or legislature, for 4-year terms. The Staten is made up of 21 members elected by direct, popular vote to serve 4-year terms. Aruba's judicial system, which has mainly been derived from the Dutch system, operates independently of the legislature and the executive. Jurisdiction, including appeal, lies with the Common Court of Justice of Aruba and the Supreme Court of Justice in the Netherlands.
Principal Government Officials
Governor—Fredis Jose Refunjol
Prime Minister—Nelson Oduber
POLITICAL CONDITIONS
After a break in the coalition between the ruling Arubaanse Volkspartij (AVP) and the Organisashon Liberal Arubano (OLA), the election due in July 1998 was pushed forward to December 1997. Unfortunately, the results were unclear, with votes equally divided between the People's Electoral Movement Party (MEP), the AVP, and the OLA. After negotiations failed to unite the MEP and AVP, a new coalition between the AVP and OLA formed, which forced the MEP into the opposition. Four years later in September 2001, the opposition MEP won a decisive victory in a free election, taking 12 of 21 seats to form Aruba's first one-party government. In 2005 elections, the MEP maintained its majority in parliament with 43% of the vote, earning a slim majority with 11 seats in the Staten.
ECONOMY
Through the 1990s and into the 21st century Aruba posted growth rates around 5%. However, in 2001 a decrease in demand and the terrorist attack on the United States led to the first economic contraction in 15 years. Deficit spending has been a staple in Aruba's history, and modestly high inflation has been present as well, although recent efforts at tightening monetary policy may correct this. Oil processing is the dominant industry in Aruba, despite the expansion of the tourism sector. Over 1.5 million tourists per year visit Aruba, with 75% of those from the United States. The sizes of the agriculture and manufacturing industries remain minimal.
FOREIGN RELATIONS
Although Aruba conducts foreign affairs primarily through the Dutch Government, it also has strong relations with other Caribbean governments. Aruba is an observer in the Caribbean Community (CARICOM), an associate member of the World Trade Organization through the Netherlands, and is a full member of the Association of Caribbean States.
U.S.-ARUBA RELATIONS
Principal U.S. Officials
Consul General—Robert E. Sorenson
Consul—Sharon E. Feiser
Vice Consul—Jean Akers
The U.S. Consulate General for Aruba and the Netherlands Antilles is located at J.B. Gorsiraweg #1, Willemstad, Curacao; tel. 599-9-461-3066, fax: 599-9-461-6489, Monday through Friday, 8:00 am-5:00 pm. Email: cgcuracao@attglobal.net