PROFILE
OFFICIAL NAME:
Grand Duchy of Luxembourg

Geography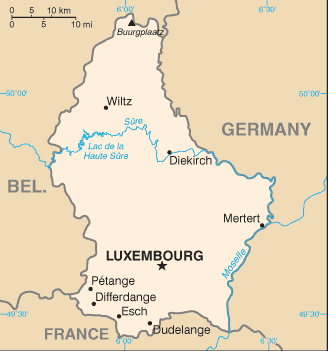 Area: 2,586 sq. km. (999 sq. mi.; about half the size of Rhode Island).
Cities: Capital--Luxembourg (pop. 77,300) (2004). Other cities--EschAlzette, Dudelange, Differdange.
Terrain: Continuation of Belgian Ardennes in the north, heavily forested and slightly mountainous; extension of French Lorraine plateau in the south, with open, rolling countryside.
Climate: Cool, temperate, rainy; like the U.S. Pacific Northwest.

People
Nationality: Noun--Luxembourger(s). Adjective--Luxembourg.
Population (2005): 455,000.
Annual growth rate (2005): 0.75%.
Ethnic groups: Celtic base with French and German blend; also guest workers from Portugal, Italy, France, and Belgium.
Religion: Historically Roman Catholic. Luxembourg law forbids the collection of data on religious practices.
Official languages: Luxembourgish, French, and German; English is widely spoken.
Education: Years compulsory--9. Attendance--100%. Literacy--100%.
Health: Life expectancy--avg. 78 years; males 75 years, females 82 years. Infant mortality rate--4.88/1000.
Work force (2004, 293,670): Services--27%; agriculture--1%; industry--13%; government and social services--22%; financial services --28%; construction--8%.
Unemployment (2004): 4.6%.
Government
Type: Constitutional monarchy.
Independence: 1839.
Constitution: 1868.
Branches: Executive--Grand Duke (head of state, ceremonial), Prime Minister (head of government). Legislative--unicameral parliament (Chamber of Deputies with Council of State serving as a consultative body). Judicial--Superior Court.
Political parties: Christian Social Party (CSV), Socialist Party (LSAP), Democratic (Liberal) Party (DP), Green Party, Action Committee for Democracy and Pension Rights (ADR).
Suffrage: Universal over age of 18.
Government budget (2004): 6,990 billion euros (EUR).
Economy
GDP (2004): $29.02 billion (23.5 billion EUR).
Annual growth rate (2004): 2.1%.
Per capita income (2004): 52,600 EUR.
Inflation rate (May 2005): 2.4%.
Natural resources: Iron ore.
Agriculture (0.5% of GNP): Products--dairy products, corn, wine. Arable land--49%.
Services (2004): 88.9%.
Industry (16.3% of GNP): Types--chemicals, steel.
Trade (2005): Exports--$10.138 billion: steel, chemicals, plastics, rubber and processed wood products. Major markets--Germany, Belgium, France, and Asia. Imports--$16.597 billion: manufactured metals, minerals, including iron ore, coal, and petroleum products; mechanical and electrical equipment, transportation equipment, scrap metal. Major suppliers--other EU countries (esp. Belgium, France, and Germany).
HISTORY
After 400 years of domination by various European nations, Luxembourg was granted the status of Grand Duchy by the Congress of Vienna on June 9, 1815. Although Luxembourg considers 1835 (Treaty of London) to be its year of independence, it was not granted political autonomy until 1839 under King William I of the Netherlands, who also was the Grand Duke of Luxembourg. In 1867, Luxembourg was recognized as independent and guaranteed perpetual neutrality. After being occupied by Germany in both World Wars, Luxembourg abandoned neutrality and became a charter member of the North Atlantic Treaty Organization (NATO) in 1949. It is also one of the six original members of the European Union, formed in 1951 as the European Coal and Steel Community (ECSC).

The present sovereign, Grand Duke Henri, succeeded his father, Grand Duke Jean, on October 7, 2000. Grand Duke Jean announced his decision to abdicate in December 1999, after a 35-year reign.

The national language of Luxembourg is Luxembourgish, a blend of Dutch, old German, and Frankish elements. The official language of the civil service, law, and parliament is French, although criminal and legal debates are conducted partly in Luxembourgish and police case files are recorded in German. German is the primary language of the press. French and German are taught in the schools, with German spoken mainly at the primary level and French at the secondary level.

GOVERNMENT
Luxembourg has a parliamentary form of government with a constitutional monarchy by inheritance. Under the constitution of 1868, as amended, executive power is exercised by the Grand Duke and the Council of Government (cabinet), which includes the prime minister, who serves as head of government. The prime minister is the leader of the political party or coalition of parties having the most seats in parliament, known as the Chamber of Deputies.
Legislative power is vested in the Chamber of Deputies, the members of which are elected directly to 5-year terms. A second body, the "Conseil d'État" (Council of State), composed of 21 ordinary citizens appointed by the Grand Duke, advises the Chamber of Deputies in the drafting of legislation. The Council's opinions have no binding effect, and the responsibilities of its members are in addition to their normal professional duties.
Luxembourg law is a composite of local practice, legal tradition, and French, Belgian, and German systems. The apex of the judicial system is the Superior Court, whose judges are appointed by the Grand Duke.

Principal Government Officials
Head of State--Grand Duke Henri of Luxembourg
Prime Minister, Minister of State, Minister of Finance--Jean-Claude Juncker (CSV)
Vice Prime Minister, Minister of Foreign Affairs and Immigration--Jean Asselborn (LSAP)
Minister of Justice, Treasury and Budget, and Defense--Luc Frieden (CSV)
Minister of Economy and Foreign Trade--Jeannot Krecke (LSAP)
Ambassador to the United States--Arlette Conzemius
Ambassador to the United Nations--Jean-Marc Hoscheit

Luxembourg maintains an embassy in the United States at 2200 Massachusetts Avenue, NW, Washington, DC 20006 (tel. 202-265-4171). Consulates or honorary consulates are located in many U.S. cities.

POLITICAL CONDITIONS
Luxembourg's political system has a strong local focus. National politicians very often begin their careers and establish their base serving as mayors, and members of the Chamber of Deputies are elected from one of four regions. The political culture favors consensus, and the parties coexist within the context of broad agreement on key issues, including the value of deep European integration.

Since the end of World War II, the Christian Social Party (CSV) has almost continually been the dominant partner in governing coalitions. The CSV resembles Christian democratic parties in other west European countries and enjoys broad popular support. Its leader, Prime Minister Jean Claude Juncker, is the most senior head of government in the European Union.
The Socialist Party (LSAP) is a center-left party similar to most social democratic parties in Europe. Initially founded by a worker's movement and a main defender of universal suffrage in 1919, the LSAP defends state intervention in the economy and the sustainability of the welfare system. Part of the government from 1984 to 1999, it lost its junior coalition status to the Democratic Party but regained it in the 2004 elections. While in the opposition, the LSAP voiced opposition to U.S. action in Iraq.
The Democratic Party (DP) is a center-right party, drawing support from civil servants, the professions, and urban middle class. Like other west European liberal parties, it advocates both social legislation and minimum government involvement in the economy. It also is strongly pro-NATO. In the opposition from 1984 to 1999, the DP overcame the LSAP to claim the role of junior partner in the government from 1999-2004. It is currently again in the opposition. The Green Party has received growing support since it was officially formed in 1983. It opposes both nuclear weapons and nuclear power and supports environmental and ecological preservation measures. This party generally opposes Luxembourg's military policies, but it has shown some openness to peacekeeping missions.

National elections are held at least every 5 years and municipal elections every 6 years. In the June 2004 parliamentary elections, the CSV won 24 seats, the DP 10, the LSAP 14, the ADR (a single-issue party that emerged from the LSAP focused on pension rights) 5, and the "Greens" 7. As a result, the DP ceded their junior coalition position back to the LSAP, which had been the junior coalition member from 1984 to 1999. Jean-Claude Juncker (CSV) has remained for a third 5-year term as Prime Minister. In July 2004, Prime Minister Juncker announced the new government and appointed Jean Asselborn (LSAP) as the Vice Prime Minister and Minister of Foreign Affairs and Immigration.

ECONOMY
While Luxembourg is aptly described as the "Green Heart of Europe" in tourist literature, its pastoral land coexists with a highly industrialized and export-intensive economy. Luxembourg enjoys a degree of economic prosperity almost unique among industrialized democracies.

In 1876, English metallurgist Sidney Thomas invented a refining process that led to the development of the steel industry in Luxembourg and the founding of the Arbed company in 1911. In 2001, Arbed merged with Aceralia and Usinor to form Arcelor, the world's second-largest steel producer, which is headquartered in Luxembourg. The iron and steel industry comprises a little less than 10.6% of the overall economy.

There has been a relative decline in the steel sector, offset by Luxembourg's emergence as a financial center. The financial sector in 2004 made up 28.9% of Luxembourg's economy, while other services such as health, public administration, and education comprised 16.4%. Banking is especially important. In May 2005, there were 161 banks in Luxembourg, with 22,711 employees. Political stability, good communications, easy access to other European centers, skilled multilingual staff, and a tradition of banking secrecy have contributed to the growth of the financial sector. Germany accounts for the largest single grouping of banks, with Belgian, French, Swiss, and major U.S. banks also heavily represented. Total banking assets exceeded $725 billion in April 2005. Approximately 13,569 holding companies with 36.4 billion EUR in capital are established in Luxembourg.
Government policies promote the development of Luxembourg as an audiovisual and communications center. Radio-Television-Luxembourg is Europe's premier private radio and television broadcaster. The government-backed Luxembourg satellite company Société Européenne des Satellites (SES) was created in 1986 to install and operate a satellite telecommunications system for transmission of television programs throughout Europe. The first SES "ASTRA" satellite, a 16-channel RCA 4000, was launched by Ariane rocket in December 1988. SES presently operates 12 satellites. ASTRA 1H is an advanced satellite with a return channel capacity in the Ka band frequency range enabling two-way satellite communications directly to users' terminals.

Luxembourg offers a favorable climate to foreign investment. Successive governments have effectively attracted new investment in medium, light, and high-tech industry. Incentives cover taxes, construction, and plant equipment. The recent European Union (EU) directive on services supplied electronically has caused a number of companies to look to Luxembourg, with its relatively low value-added tax (VAT) rates, as a possible location for directing their European operations. U.S. firms are among the most prominent foreign investors, producing tires (Goodyear), chemicals (Dupont), glass (Guardian Industries), and a wide range of industrial equipment. The Department of Commerce's Bureau of Economic Analysis reports that total U.S. direct investment in Luxembourg (on a historical cost basis) was nearly $67 billion at the end of 2003. Foreign direct investment (FDI) data for Luxembourg must be interpreted cautiously, however, because of Luxembourg's role in financial intermediation, particularly involving Luxembourg-based holding companies.

Labor relations have been peaceful since the 1930s. Most industrial workers are organized by unions linked to one of the major political parties. Representatives of business, unions, and government participate in the conduct of major labor negotiations.

Foreign investors often cite Luxembourg's labor relations as a primary reason for locating in the Grand Duchy. Unemployment in 2004 was 4.2% but rose to 4.6% in April 2005. Luxembourg's small but productive agricultural sector provides employment for less than 1.3% of the work force. Most farmers are engaged in dairy and meat production. Vineyards in the Moselle Valley annually produce about 12.3 million liters of dry white wine, most of which is consumed locally.

Luxembourg's trade account has run a persistent deficit over the last decade (-36772 million EUR in 2004), but the country enjoys an overall balance-of-payment surplus, due to revenues from financial services. Government finances are strong, and budgets are normally in surplus. The government recently announced a 71.2 million-euro budget surplus for 2004.
FOREIGN RELATIONS
Luxembourg has long been a prominent supporter of European political and economic integration. In efforts foreshadowing European integration, Luxembourg and Belgium in 1921 formed the Belgium-Luxembourg Economic Union (BLEU) to create an inter-exchangeable currency and a common customs regime. Luxembourg is a member of the Benelux Economic Union and was one of the founding members of the European Economic Community (now the European Union). It also participates in the Schengen Group, whose goal is the free movement of citizens among member states. At the same time, Luxembourgers have consistently recognized that European unity makes sense only in the context of a dynamic, transatlantic relationship and have traditionally pursued a pro-NATO, pro-U.S. foreign policy.

Luxembourg is the site of the European Court of Justice, the European Court of Auditors, European Investment Bank, and other vital EU organs. The Secretariat of the European Parliament is located in Luxembourg, but the Parliament usually meets in nearby Strasbourg. Luxembourg held the EU Presidency in the first half of 2005.

DEFENSE
The Luxembourg Army is under civilian control. The country has no navy or air force. A 1967 law made the army an all-volunteer force with current strength of approximately 430 professional soldiers, about 340 enlisted recruits, and 110 civilians. A 2002 law now allows EU citizens, under certain conditions, to join the Luxembourg Army.

Responsibility for defense matters is vested in the Minister who is also the Minister of Budget and Treasury, Minister of Justice, and the Minister in charge of the police. This grouping of portfolios in the government formed in 2004 was meant to facilitate Luxembourg's efforts in combating terrorism and defining a niche role in NATO and the EU's defenses and security intitiatives. Defense had a budget of $252,142,300 in 2004. Luxembourg has participated in the European Corps (EUROCORPS) since 1994 and has contributed troops to the UNPROFOR, IFOR, and KFOR missions in the former Yugoslavia. It has also participated with a small contingent in the NATO SFOR mission in Bosnia and currently participates in the NATO ISAF mission in Afghanistan. Luxembourg financially supported international peacekeeping missions during the 1991 Gulf War and in Rwanda and Albania and has provided humanitarian aid to Iraq. The army also has participated in humanitarian relief missions such as setting up refugee camps for Kurds and providing emergency supplies to Albania.
U.S. RELATIONS
Luxemburgers are deeply appreciative of the sacrifices made by Americans, leading to the country's liberation in the two World Wars of the 20th century. More than 5,000 American soldiers, including Gen. George S. Patton, are buried at the American Military Cemetery near the capital, and there are monuments in many towns to American liberators. The strong U.S.-Luxembourg relationship is expressed both bilaterally and through common membership in NATO, the Organization for Economic Cooperation and Development (OECD), and the Organization for Security and Cooperation in Europe (OSCE).
Principal U.S. Officials
Ambassador--Ann Wagner
Deputy Chief of Mission--Daniel Piccuta
Political/Economic Chief--Daniel Foote
Economic Officer--Lorelei Snyder
Commercial Assistant--Carla Rosen-Vacher
Management Officer--Daniel Foote
Vice Consul--Caroline Savage
Public Diplomacy--Matthew Long
The U.S. Embassy in Luxembourg is located at 22 Boulevard Emmanuel Servais, L-2535 Luxembourg City (tel. 352-460-123).