PROFILE
OFFICIAL NAME:
Republic of Trinidad and Tobago

Geography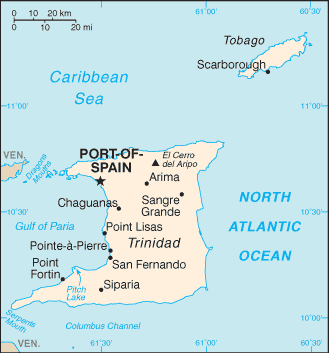 Area: 5,128 sq. km. (1,980 sq. mi.), about 1.5 times the size of Rhode Island. Trinidad--4,828 sq. km. (1,864 sq. mi). Tobago--300 sq. km. (116 sq. mi).
Cities: Capital--Port of Spain (metropolitan pop. 310,000). Other cities--San Fernando, Chaguanas, Arima, Scarborough.
Terrain: Plains and low mountains.
Climate: Tropical; principal rainy season is June through December.
People
Nationality: Noun and adjective--Trinidadian(s) and Tobagonian(s).
Population (2004 est.): 1.3 million.
Annual growth rate: 0.6%.
Ethnic groups (2000): East Indian 40.0%, African 37.5%, mixed 20.5%, European 0.6%, Chinese 0.3%, other/not stated 1.1%.
Religions (2000): Roman Catholic 26.0%, Hindu 22.5%, Protestant 24.6% (Anglican 7.8%, Pentecostal 6.8%, Baptist 1.8%, Methodist 0.8%); Islam 5.8%; Shouter Baptist 5.4%; other Christian 10.7%.
Language: English.
Education: Years compulsory--8. Literacy--98%.
Health (1999 est.): Infant mortality rate--18.6/1,000. Life expectancy--68 yrs. male; 73 yrs. female.
Work force (613,000 in 2004): Trade and services 53.4%, construction 16.4%, government 10.3%, manufacturing 10.0%, agriculture/sugar 4.9%, oil/gas 3.2%, utilities 1.4%.
Government
Type: Parliamentary democracy.
Independence: August 31, 1962.
Present constitution: September 24, 1976.
Branches: Executive--president (chief of state), prime minister (head of government), cabinet. Legislative--bicameral parliament. Judicial--independent court system; highest court of appeal is Privy Council (London).
Subdivisions: Nine regions, two cities, three boroughs (Trinidad); Tobago House of Assembly.
Political parties: People's National Movement (PNM), United National Congress (UNC), National Alliance for Reconstruction (NAR).
Suffrage: Universal at 18.
Economy (2004 est.)
GDP: U.S. $11.6 billion (nominal).
Annual growth rate: 6.2% (real).
Per capita income: U.S. $8,923.
Natural resources: Oil and natural gas, timber, fish.
Petroleum (crude oil, natural gas, petrochemicals): 40.1% of GDP.
Financial services: 13.1% of GDP.
Distribution including restaurants: 12.6% of GDP.
Manufacturing (food and beverages, assembly, chemicals, printing): 6.8% of GDP.
Construction: 6.0% of GDP.
Transport/storage/communication: 8.4% of GDP.
Government: 5.6% of GDP.
Education, cultural community services: 2.2% of GDP.
Electricity and water: 1.6% of GDP.
Agriculture (sugar, poultry, other meat, vegetables, citrus): 0.8% of GDP.
Hotels and guesthouses: 0.3% of GDP.
PEOPLE AND HISTORY
Columbus landed on and named Trinidad in 1498, and Spaniards settled the island a century later. Spanish colonizers largely wiped out the original inhabitants--Arawak and Carib Indians--and the survivors were gradually assimilated. Although it attracted French, free black, and other non-Spanish settlers, Trinidad remained under Spanish rule until the British captured it in 1797. During the colonial period, Trinidad's economy relied on large sugar and cocoa plantations. Tobago's development was similar to other plantation islands in the Lesser Antilles and quite different from Trinidad. During the colonial period, French, Dutch, and British forces fought over possession of Tobago, and the island changed hands 22 times--more often than any other West Indies island. Britain took final possession of Tobago in 1803. The two islands of Trinidad and Tobago were incorporated into a single colony in 1888. Trinidad and Tobago achieved full independence in 1962 and joined the British Commonwealth.
The people of Trinidad and Tobago are mainly of African or East Indian descent. Virtually all speak English. Small percentages also speak Hindi, French patois, and several other dialects. Trinidad has two major folk traditions: Creole and East Indian. Creole is a mixture of African elements with Spanish, French, and English colonial culture. Trinidad's East Indian culture came to the island with indentured servants brought to fill a labor shortage created by the emancipation of the African slaves in 1833. Most remained on the land, and they still dominate the agricultural sector, but many have become prominent in business and the professions. East Indians have retained much of their own way of life, including Hindu and Muslim religious festivals and practices.

GOVERNMENT
Trinidad and Tobago is a unitary state, with a parliamentary democracy modeled after that of Great Britain. Although completely independent, Trinidad and Tobago acknowledged the British monarch as the figurehead chief of state from 1962 until 1976. In 1976 the country adopted a republican Constitution, replacing Queen Elizabeth with a president elected by Parliament. The general direction and control of the government rests with the cabinet, led by a prime minister and answerable to the bicameral Parliament.

The 36 members of the House of Representatives are elected to terms of at least 5 years. Elections may be called earlier by the president at the request of the prime minister or after a vote of no confidence in the House of Representatives. The Senate's 31 members are appointed by the president: sixteen on the advice of the prime minister, six on the advice of the leader of the opposition, and nine independents selected by the president from among outstanding members of the community. Elected councils administer the nine regional, two city, and three borough corporations on Trinidad. Since 1980 the Tobago House of Assembly has governed Tobago.

The country's highest court is the Court of Appeal, whose chief justice is appointed by the president after consultation with the prime minister and leader of the opposition. The Judicial Committee of the Privy Council in London decides final appeal on some matters. Member states of the Caribbean Community (CARICOM) selected Trinidad as the headquarters site for the new Caribbean Court of Justice (CCJ), which is intended eventually to replace the Privy Council for all CARICOM states. The CCJ heard its first case in August 2005. Despite having its seat in Port of Spain, the CCJ has not yet supplanted the Privy Council for Trinidad and Tobago due to a legislative dispute over constitutional reform.

Principal Government Officials
President--George Maxwell Richards
Prime Minister--Patrick Manning
Attorney General--John Jeremie
Chief Justice--Satnarine Sharma
Selected Short List of Key Ministers
Minister of Foreign Affairs--Knowlson Gift
Minister of Energy and Energy Industries--Eric Williams
Minister of Finance--Conrad Enill
Minister of National Security--Martin Joseph
Minister of Tourism--Howard Chin Lee
Minister of Trade and Industry--Kenneth Valley
Ambassador to the U.S. and to the OAS--Marina Valere
Ambassador to the UN--Phillip Sealey

The embassy of the Republic of Trinidad and Tobago is located at 1708 Massachusetts Avenue NW, Washington, DC 20036 (tel. 202-467-6490; fax. 202-785-3130).

POLITICAL CONDITIONS
The first political party in Trinidad and Tobago with a continuing organization and program--the People's National Movement (PNM)--emerged in 1956 under Dr. Eric Williams, who became Prime Minister upon independence and remained in that position until his death in 1981. Politics have generally run along ethnic lines, with Afro-Trinidadians supporting the PNM and Indo-Trinidadians supporting various Indian-majority parties, such as the United National Congress (UNC). Most political parties, however, have sought to broaden their purview.
The PNM remained in power following the death of Dr. Williams, but its 30-year rule ended in 1986 when the National Alliance for Reconstruction (NAR), a rainbow party aimed at Trinidadians of both African and Indian descent, won a landslide victory by capturing 33 of 36 seats. Tobago's A.N.R. Robinson, the NAR political leader, became Prime Minister. The NAR began to break down when the Indian component withdrew in 1988. Basdeo Panday, leader of the old United Labor Front (ULF), formed the new opposition with the UNC.
In July 1990, the Jamaat al Muslimeen, an extremist Black Muslim group with an unresolved grievance against the government over land claims, tried to overthrow the NAR government. The group held the prime minister and members of parliament hostage for 5 days while rioting and looting shook Port of Spain. After a long standoff with the police and military, Jamaat leader Yasin Abu Bakr and his followers surrendered to Trinidad and Tobago authorities. In 1992 the Court of Appeal upheld the validity of a government amnesty given to the Jamaat members during the hostage crisis. Abu Bakr and 113 other Jamaat members were jailed for two years while other courts debated the amnesty's validity. All 114 members were eventually released after a ruling by the U.K. Privy Council.
In 1991 elections, the NAR lost control of the government to the PNM, led by Patrick Manning who became prime minister. The Panday-led UNC finished second and replaced the NAR as chief opposition party. In 1995 Manning called for elections, in which the PNM and UNC both won 17 seats and the NAR won two seats. The UNC allied with the NAR and formed the new government, with Panday becoming prime minister--the first prime minister of East Indian descent. Although elections held in 2000 returned the UNC to power, the UNC government fell in 2001 with the defection of three of its parliamentarians, and the subsequent elections resulted in an even 18-18 split between the UNC and the PNM. President A.N.R. Robinson ironically bypassed his former party colleague Panday by inviting PNM leader Manning to form a government, but the inability to break the tie delayed Parliament from meeting. Manning called elections in 2002, following which the PNM formed the next government with a 20-16 majority. The next elections must be held by 2007, and both parties have spent part of 2005 attempting to prepare for those polls. Latest speculation is whether Panday, facing trial for alleged corruption during his tenure as prime minister, will be replaced in October as UNC leader to allow a new generation to take over. Manning shows every indication of intending to continue in office.
Both parties are committed to free market economic policies and increased foreign investment. Trinidad and Tobago has remained cooperative with the United States in the regional fight against narcotics trafficking and on other issues.
ECONOMY
The twin-island nation of Trinidad and Tobago continues to experience real GDP growth as a result of economic reforms, tight monetary policy and fiscal responsibility, and high oil prices. In 2004 the country experienced a real GDP growth rate of 6.2%, which followed 13.2% growth in 2003. The PNM-led government has continued the sound macroeconomic policies of the previous UNC government. Long-term growth looks promising, as Trinidad and Tobago further develops its oil and gas resources and the industries dependent on natural gas, including petrochemicals, fertilizers, iron/steel and aluminum. Additional growth potential also exists in financial services, telecommunications and transport. Strong growth in Trinidad and Tobago over the past few years has led to trade surpluses, even with high import levels due to industrial expansion and increased consumer demand. The debt service ratio, 15.4% in 1997, fell to as low as 3.7% in 2001 and was a moderate 4.7% in 2004. Unemployment, which was 12.1% in 2001, had fallen to 8.4% by 2004. Inflation, however, has begun to worsen with prices rising at an annualized rate of 7.34% in March 2005, as opposed to 5.6% in December 2004. Food prices have been rising at a rate of over 20% in the first half of 2005, and the Central Bank has raised interest rates twice in 2005 after no action for several years. There are no currency or capital controls and the central bank maintains the TT dollar in a lightly managed, stable float against the U.S. dollar. The exchange rate in mid-2005 was about TT 6.22=U.S. $1.
Trinidad and Tobago has made a transition from an oil-based economy to one based on natural gas. In 2004, natural gas production averaged 2.9 trillion cubic feet per day (tcf/d), an increase of 12.9% from 2003. The petrochemical sector, including plants producing methanol, ammonia, urea, and natural gas liquids, has continued to grow in line with natural gas production, which continues to expand and should meet the needs of new industrial plants coming on stream in the next few years. The major development in 2005 will be the likely opening of the fourth production module or "train" for liquefied natural gas (LNG) at Atlantic LNG. Train 4 will increase Atlantic LNG overall output by almost 50% and will be the largest LNG train in the world at 5.2 million tons/year of LNG. Trinidad and Tobago is the 5th largest exporter of LNG in the world and the single largest supplier of LNG to the U.S., supplying between 70-75% of all LNG imported into the U.S. Overall, the petroleum sector grew by 10.5% in 2004, the third straight year of double-digit growth.
The non-energy sector grew at a slower pace in 2004. Output in this sector increased by a modest 2.9% in 2004 compared to 3.8% in 2003 with the impetus coming from the Manufacturing and Services sectors. The rate of growth in the Manufacturing sector was 6.6% in 2004, thanks to the Food, Beverages and Tobacco, and Assembly-Type industries. The Services sector grew by 2.9%, led by Construction. Construction sector growth was due mainly to Trinidad and Tobago Government investment in housing and infrastructure, and ongoing projects in the energy sector. Performance in the Agriculture sector has been weak and declined by 20.2% in 2004. The decline in output resulted largely from the shrinking and restructuring of the sugar industry. Recognizing the role that energy plays in the economic life of Trinidad and Tobago, where it was the source last year of 37% of governmental revenues, the government is seeking to diversify the economy to reduce dependence on the energy sector and to achieve self-sustaining growth. The diversification strategy focuses on six main sectors: traditional manufacturing; a new technology-based industrial sector; tourism; financial services; agriculture; and small business.

The investment climate is good. Since 1992, almost all investment barriers have been eliminated. The government continues to welcome foreign investors. The government has a double taxation agreement, a bilateral investment treaty and an intellectual property rights agreement with the United States. U.S. investment in Trinidad and Tobago exceeds a billion dollars. Total foreign direct investment has averaged $700 million annually over the last decade. Among recent and ongoing investment projects are several involving U.S. firms: ISG Trinidad started operations in November 2004 in a plant that has the capacity to produce 500,000 metric tons annually of hot briquetted iron. Nucor has received approval from the Trinidad and Tobago Government to set up a plant to produce up to 1.5 million tons annually of direct reduced iron. Two aluminum smelter plants are also planned, one of them to be owned by ALCOA. The first major business-class hotel to be opened in several years bears the Marriott Courtyard brand. Hyatt has announced plans to manage a property at the multimillion-dollar port development project in Port of Spain.

Trinidad and Tobago's infrastructure is adequate by regional standards. Expansion of the Crown Point airport on Tobago is being planned, which follows opening of the Piarco terminal on Trinidad in 2000. There is an extensive network of paved roads. Traffic is a worsening problem throughout Trinidad, as the road network is not well suited to the volume of vehicles, and no mass transport system exists as an alternative. Utilities are fairly reliable in cities, but some rural areas suffer from water shortages, power failures, and inadequate drainage. Infrastructure improvement is one of the government's budget priorities, especially rehabilitating rural roads and bridges, rural electrification, flood control and improved drainage and sewerage. A multi-year plan for light rail transport has been announced.
Telephone service is modern and reliable, although significantly more costly to consumers than comparable U.S. service, including for wireline, wireless and broadband services. Change began this year in the wireless market when the new Telecommunications Authority invited two firms to offer competition to state-owned monopoly incumbent TSTT (co-owned by Cable & Wireless). The new wireless providers, Digicel and Laqtel, are planning to provide service by 2006. Long distance, cable and Internet services have not yet been deregulated, but the government has indicated that it will do so in those markets as well, beginning with cable TV. Internet has come into widespread use, but broadband services are limited to a few upscale residential areas, although some wireless "hot spots" have emerged. Improvements in service and price are likely as TSTT prepares itself to meet competition for Internet services in coming years.
FOREIGN RELATIONS
As the most industrialized and second-largest country in the English-speaking Caribbean, Trinidad and Tobago has taken a leading role in the Caribbean Community and Common Market (CARICOM), and strongly supports CARICOM economic integration efforts. CARICOM members are working to establish a Single Market and Economy (CSME). Trinidad and Tobago and two other CARICOM members have made strides toward launching the first phases of CSME by 2006.
Trinidad and Tobago is active in the Summit of the Americas process of Organization of American States (OAS). It recently hosted hemisphere-wide ministerial meetings on energy (2004) and education (2005), as well as an OAS meeting on terrorism and security (also 2005). It also hosted a negotiating session in 2003 for the OAS Free Trade Area of the Americas, and aspires to hosting an eventual FTAA secretariat.
Trinidad and Tobago is a democracy that maintains close relations with its Caribbean neighbors and major North American and European trading partners. After its 1962 independence, Trinidad and Tobago joined the UN and the Commonwealth. In 1967, it became the first Commonwealth country to join the OAS. In 1995, Trinidad played host to the inaugural meeting of the Association of Caribbean States and has become the headquarters location for this 25-member grouping, which seeks to further economic progress and integration among its members.
U.S.-TRINIDAD AND TOBAGO RELATIONS
The United States and Trinidad and Tobago enjoy cordial relations. U.S. interests here and throughout the hemisphere focus on increasing investment and trade, and securing more stable supplies of energy. They also include enhancing Trinidad and Tobago's political and social stability and positive regional role through assistance in drug interdiction, health issues, and legal affairs. The U.S. embassy was established in Port of Spain in 1962, replacing the former consulate general.
In 1999, bilateral assistance from all sources to Trinidad and Tobago amounted to more than $3 million, mostly Department of State grants, counter-narcotics assistance, International Military Education and Training (IMET) funds, and Foreign Military Financing (FMF) funds. IMET and FMF programs were suspended in July 2003 under the terms of the American Service members Protection Act (ASPA), because Trinidad and Tobago, a member of the International Criminal Court, has not concluded a bilateral non-surrender or "Article 98" agreement with the United States. Currently, the main source of financial assistance provided to the defense force is through International Narcotics Law Enforcement and Traditional Commander's Activities funds. Assistance to Trinidad and Tobago from U.S. military, law enforcement authorities, and in the area of health issues remains important to the bilateral relationship and to accomplishing U.S. policy objectives.

The U.S. Government also provides technical assistance to the Government of Trinidad and Tobago through a number of existing agreements. The Department of Homeland Security has a Customs Advisory Team working with the Ministry of Finance to update its procedures. Similarly, the Treasury Department has an IRS advising team that works with the Board of Inland Revenue modernizing its tax administration. The U.S. Centers for Disease Control and Prevention (CDC), a part of the Department of Health and Human Services, has a regional office here that works with the Caribbean Epidemiology Center (CAREC) and other regional partners to provide prevention, care and treatment in response to the HIV/AIDS epidemic in the Caribbean.

U.S. commercial ties with Trinidad and Tobago have always been strong and have grown substantially in the last several years due to economic liberalization. U.S. firms have invested more than a billion dollars in recent years--mostly in the petrochemical, oil/gas, and iron/steel sectors. Many of America's largest corporations have commercial links with Trinidad and Tobago, and more than 30 U.S. firms have offices and operations in the country. Trinidad and Tobago is a beneficiary of the U.S. Caribbean Basin Initiative (CBI). The U.S. embassy actively fosters bilateral business ties and provides a number of commercial services to potential investors and traders. A double-taxation agreement has existed since the early 1970s. A tax information exchange agreement was signed in 1989, and a Bilateral Investment Treaty (BIT) and an Intellectual Property Rights agreement were signed in 1994. The BIT entered into force in 1996. Other agreements include Extradition and Mutual Legal Assistance treaties, which have been in force since 1999. An agreement on Maritime Cooperation was signed in 1996.
There are large numbers of U.S. citizens and permanent residents of Trinidadian origin living in the United States (mostly in New York and Florida), which keeps cultural ties strong. About 20,000 U.S. citizens visit Trinidad and Tobago on vacation or for business every year, and more than 4,600 American citizens are residents.
Principal U.S. Embassy Officials
Ambassador--Roy L. Austin
Deputy Chief of Mission--Eugene P. Sweeney
Economic/Commercial Chief--A. David Miller
Political/INL Chief--Avraham Rabby
Consular Chief--Armando Armendariz
Management Officer--Cassie Ghee
Regional Security Officer--Thomas Dagon
Public Affairs Officer--Robert Skinner
The U.S. Embassy is at 15 Queen's Park West, Port of Spain (tel. 868 622-6371, fax: 868 628-5462).