PROFILE
OFFICIAL NAME:
Turkmenistan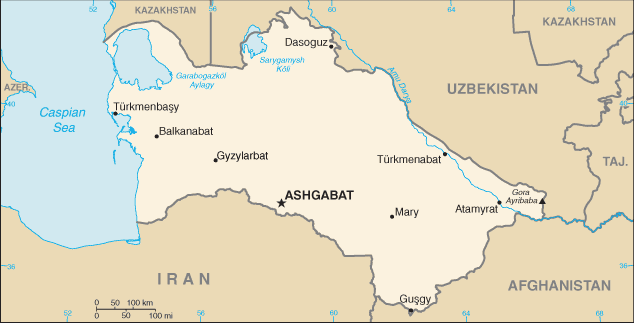 Geography
Area: 488,100 sq. km. (303,292 sq. mi.).
Cities: Capital--Ashgabat. Other cities--Turkmenabat (formerly Chardjou/Charjew), Dashoguz (formerly Dashowuz), Mary, Turkmenbashi (formerly Krasnovodsk).
Terrain: 80% covered in subtropical, sandy Karakum Desert, with dunes rising to the Kopet Dag Mountains in the south along the border with Iran; borders the Caspian Sea to the west and the Amu Darya River and Uzbekistan to the east; borders Afghanistan to the southeast, Kazakhstan to the north. Climate: Subtropical desert.
People
Nationality: Turkmenistani.
Population (2005 est.): 4.9 million.
Population growth rate (2005 est.): 1.81%.
Ethnic groups (2003 est.): Turkmen 85%, Uzbek 5%, Russian 4%, other 6%.
Religion: Muslim 89%, Eastern Orthodox 9%, unknown 2%.
Language: Turkmen 72%, Russian 12%, Uzbek 9%, other 7%.
Education (2002 est.): Literacy--98.8%.
Health (2005 est.): Infant mortality rate--73.1/1,000. Life expectancy--61.3 years.
Government
Type: Republic.
Independence: October 27, 1991 (from the Soviet Union).
Constitution: May 18, 1992.
Branches: Executive--President. Legislative--Mejlis (Parliament); Halk Maslahaty (People's Council). Judicial--Supreme Court.
Administrative subdivisions: 5 Welayats (provinces)--Ahal Welayat (Ashgabat), Balkan Welayat (Balkanabat), Dashoguz Welayat (formerly Dashowuz), Lebap Welayat (Turkmenabat, formerly Chardjou/Charjew), Mary Welayat.
Political parties: Democratic Party of Turkmenistan (opposition parties are outlawed).
Economy (2005)
GDP (PPP - Purchasing Power Parity): $29.38 billion.
GDP per capita (PPP): $5,900.
GDP real growth rate (IMF estimate): 7%. Note: official government statistics show 20.7% growth, but these estimates are unreliable.
Inflation rate: 10%.
Agriculture: Products--cotton, grain, livestock.
Industry: Types--natural gas, oil, petroleum products, textiles, food processing.
Trade: Exports ($4.7 billion f.o.b.)--gas 47%; oil 34%; petrochemicals 15%; cotton 4%. Partners--Ukraine, Iran, Italy, Turkey, Russia, United States. Imports ($4.175 billion f.o.b.)--machinery and equipment 46%; chemicals 11%; food and live animals 5.3%. Partners--United States, Russia, U.A.E., Ukraine, Turkey, Germany.
Debt, external (2001 est.): $2.4 billion to $5 billion.
PEOPLE AND HISTORY
The majority of Turkmenistan's citizens are ethnic Turkmen; other ethnic groups include Russian, Uzbek, and Kazakh. Turkmen is the official language of Turkmenistan, though Russian still is widely spoken as a "language of inter-ethnic communication" (per the 1992 constitution). Education is universal and mandatory through the secondary level, the total duration of which was recently reduced from 11 to 9 years.
The territory of Turkmenistan has been populated since ancient times, as armies from one empire to another decamped on their way to more prosperous territories. Tribes of horse-breeding Turkmen drifted into the territory of Turkmenistan, possibly from the Altay Mountains, and grazed along the outskirts of the Karakum Desert into Persia, Syria, and Anatolia.
Alexander the Great conquered the territory in the 4th century B.C. on his way to India. One hundred fifty years later the Parthian Kingdom took control of Turkmenistan, establishing its capital in Nisa, an area now located in the suburbs of the modern-day capital of Ashgabat. In the 7th century A.D. Arabs conquered this region, bringing with them the Islamic religion and incorporating the Turkmen into Middle Eastern culture. It was around this time that the famous "Silk Road" was established as a major trading route between Asia and Europe.
In the middle of the 11th century, the powerful Turks of the Seljuk Empire concentrated their strength in the territory of Turkmenistan in an attempt to expand into Afghanistan. The empire broke down in the second half of the 12th century, and the Turkmen lost their independence when Genghis Khan took control of the eastern Caspian Sea region on his march west. For the next seven centuries, the Turkmen people lived under various empires and fought constant intertribal wars.
From the 16th century on, Turkmen raiders on horseback preyed on passing caravans, pillaging and taking prisoners for the slave trade. In order to consolidate the Tsarist Empire in Central Asia, and upon the pretext of freeing Russian citizens from slavery, Russia sent forces to Turkmenistan, and in 1881 fighting climaxed with the massacre of 7,000 Turkmen at the desert fortress of Gokdepe, near modern Ashgabat; another 8,000 were killed trying to flee across the desert. By 1894 imperial Russia had taken control of Turkmenistan. The October Revolution of 1917 in Russia and subsequent political unrest led to the declaration of the Turkmen Republic as one of the 15 republics of the Soviet Union in 1924. At this time the modern borders of Turkmenistan were formed.
The Turkmen Republic was under full control of Moscow, which exploited its raw material resources for the purposes of the Soviet Union. Sovereignty was only a formality since Russia ultimately ruled all Soviet states.
GOVERNMENT AND POLITICAL CONDITIONS
Following the end of the Cold War and the breakup of the Soviet Union, Turkmenistan declared its independence on October 27, 1991. Saparmurat Niyazov became the first president of the new republic and still remains the supreme decision-maker. On December 28, 1999, Niyazov's term was extended indefinitely by the Mejlis (parliament), which itself had taken office only a week earlier in flawed elections that included only candidates hand-picked by President Niyazov. Neither independent political activity nor opposition candidates are allowed in Turkmenistan. The Democratic Party of Turkmenistan (DPT) is the only legal political party. Political gatherings are illegal unless government sanctioned, and the citizens of Turkmenistan do not have the means to change their government democratically.
On November 25, 2002, an armed attack against President Niyazov's motorcade was made and the Government of Turkmenistan moved quickly against perceived sources of opposition. There were widespread reports of human rights abuses committed by officials investigating the attack, including torture and punishment of families of the accused. The Government of Turkmenistan denied the charges, but refused to allow independent observers at trials, to accept a mandatory Organization for Security and Cooperation in Europe (OSCE) fact-finding mission, or to permit the International Committee of the Red Cross (ICRC) access to prisons. It also instituted new measures to stifle dissent and limit contact with the outside world.
While the constitution provides for freedom of the press, there is virtually no freedom of the press or of association. The government has full control of all media and restricts foreign publications. International satellite TV is available.
The population is 89% Sunni Muslim. The constitution provides for freedom of religion and does not establish a state religion; however, in practice, the government continues to monitor all forms of religious expression. Amendments to the law on religious organizations adopted in March 2004 reduced membership requirements from 500 to 5. All groups must register in order to gain legal status with the government. Until 2004 the only religions that were registered successfully were Sunni Islam and Russian Orthodox Christianity, which are controlled by the government; by January 2006, nine minority religious groups had registered. The government limits the activities of unregistered religious congregations by prohibiting them from gathering publicly, proselytizing, and disseminating religious materials.
A Soviet-style command economy greatly limits equality of opportunity. Industry and services are almost entirely provided by government or government-owned entities, while agriculture is dominated by a state order system. Women face discrimination, and their freedom is somewhat restricted due to traditional socio-religious norms. All citizens are required to carry internal passports, noting place of residence, and movement into and out of the country, as well as within its borders, is difficult. President Niyazov introduced a new migration law in late 2005 that suggested a reimposition of exit restrictions on Turkmen citizens. As of January 2006, the law was not fully implemented and its effect remained unclear.
Corruption continues to be pervasive. Power is concentrated in the president; the judiciary is wholly subservient to the regime, with all judges appointed for 5-year terms by the president without legislative review. The president routinely dismisses cabinet members and other government officials on charges of corruption and they are subsequently tried in secret trials and frequently imprisoned or sentenced to internal exile. These dismissals, however, are often politically motivated and have little impact on the culture of corruption.
Principal Government Officials
President--Saparmurat Niyazov
Foreign Minister--Rashit Meredov
Ambassador to the United States--Meret B. Orazov
Turkmenistan maintains an embassy at 2207 Massachusetts Avenue NW, Washington, DC 20008; tel: (202) 588-1500, fax: (202) 588-0697, website: http://www.turkmenistanembassy.org/
ECONOMY
Turkmenistan is an important supplier of raw materials, especially natural gas, petrochemicals and raw cotton. With the 2005 harvest of 700,000 tons, Turkmenistan is the second largest cotton producer in the former Soviet Union after Uzbekistan. However, the crop yield has been steadily declining since independence because of poor irrigation and management practices.
While outside estimates place Turkmenistan's proven natural gas reserves among those of the top 15 of gas-producing countries, Turkmenistan's claims place its reserves at far higher than outside sources consider credible. In January 2005 Turkmenistan claimed its current recoverable gas resources to be as much as 20.42 trillion cubic meters (tcm), but controversy surrounding the as yet unreleased certified audit results of Turkmenistan's single largest field, Dovletabad, casts serious doubts on the verifiability of Turkmenistan's claims for its total reserves.
Despite its non-transparency about gas reserves, Turkmenistan remains the second largest gas producer in the former Soviet Union after Gazprom. Production figures have been consistently climbing since 1998 when Turkmenistan was virtually cut off from all outside markets by Russia. Turkmenistan's 2005 output was an estimated 63 billion cubic meters (bcm); the bulk of which (45.2 bcm) went to Ukraine, Russia and Iran.
Turkmenistan relies exclusively on Russia for its export routes as most of the pipeline network is laid on Russian territory. Russian control of the northward pipeline is a source of frequent gas price disputes with Russia. Turkmenistan managed to hike up its previous average price of $44 per 1,000 cubic meters at the end of 2005. It currently holds a contract with Gazprom to supply 30 bcm in 2006 at $65 per 1,000 cubic meters. Ukraine countered with a deal to supply 40 bcm at $50 per 1,000 cubic meters (cm) in the first half of 2006 and $60 per 1,000 cubic meters in the second half of 2006. It is unclear if Turkmenistan can fulfill these obligations. Turkmenistan also exports to Iran about 8 bcm a year.
Turkmenistan's 2005 oil production dropped to 9.5 million tons (about 1%) over that of 2004. Among other major exports are liquefied natural gas (LNG) and polypropylene.
With an authoritarian post-communist regime in power, Turkmenistan has taken a cautious approach to economic reform, hoping to use gas and cotton sales to sustain inefficiencies in its economy. Privatization goals remain limited, with a substantial private share only in food processing, consumer trade and services. Despite the increased inflow of gas revenue, prospects in the near future are uncertain; widespread internal poverty, the burden of foreign debt, and the unwillingness of the government to adopt market-oriented reforms continue to offset gas-related gains. Turkmenistan's economic statistics are closely held secrets, and published GDP and other figures are subject to wide margins of error. Turkmenistan's unrealistic goal of "self-sufficiency" also artificially sustains the cultivation of inefficient crops, such as wheat and cotton. The 2005 UN Development Program (UNDP) Human Development Report places Turkmenistan in the category of "medium human development" although the unemployment rate may be as high as 70%. Turkmenistan has cooperated with the international community in transporting humanitarian aid to Afghanistan.
FOREIGN RELATIONS
Turkmenistan's declaration of "permanent neutrality" was formally recognized by the United Nations in 1995. Although the Government of Turkmenistan favors high-profile purchases from the United States, it has significant commercial relationships with Turkey, Russia, and Iran, and increasingly with China. The government worked closely with the Taliban regime in Afghanistan until September 11, 2001, and until that time had a growing cross-border trade with the regime in Afghanistan.
Turkmenistan, Kazakhstan, Tajikistan, and Uzbekistan wrestle with sharing limited water resources and regional environmental degradation caused by the shrinking of the Aral Sea. Multilaterally accepted Caspian Sea seabed and maritime boundaries have not yet been established. Iran and Turkmenistan insist on dividing the Caspian Sea into five equal sectors while Azerbaijan, Kazakhstan, and Russia have generally agreed upon equidistant seabed boundaries.
U.S.-TURKMENISTAN RELATIONS
For several years, Turkmenistan was a key player in the U.S. Caspian Basin Energy Initiative, which sought to facilitate negotiations between commercial partners and the Governments of Turkmenistan, Georgia, Azerbaijan, and Turkey to build a pipeline under the Caspian Sea and export Turkmen gas to the Turkish domestic energy market and beyond--the so-called Trans-Caspian Gas Pipeline (TCGP). However, the Government of Turkmenistan essentially removed itself from the negotiations in 2000 by refusing all offers by its commercial partners and making unrealistic demands for billion-dollar "pre-financing."
The United States and Turkmenistan continue to disagree about the country's path toward democratic and economic reform. The United States has publicly advocated industrial privatization, market liberalization, and fiscal reform, as well as legal and regulatory reforms to open up the economy to unhindered foreign trade and investment, as the only way to achieve prosperity and stability.
U.S. criticism of the Government of Turkmenistan's crackdown against perceived sources of political opposition after the November 2002 motorcade attack led to a marked downturn in bilateral relations between the Governments of the United States and Turkmenistan. However, currently the Government of Turkmenistan is interested in engaging with the United States in several areas, including security and energy issues. In order to secure and maintain this engagement, the government has been willing to take some small steps forward in democratic reform, such as lifting exit visas and allowing the registration of religious minorities. Its human rights record, however, remains poor. Diplomatic missions from various countries and international organizations have joined together to persuade the Government of Turkmenistan to improve its human rights practices, but their efforts have not led to significant improvements overall.
[Fact sheet on FY 2005 U.S. Assistance to Turkmenistan.]
Principal U.S. Officials
Ambassador--Tracey A. Jacobson
Deputy Chief of Mission--Jennifer L. Brush
Political-Economic Officer--Carla A. Gonneville
Public Affairs Officer--Helen Lovejoy
Defense Attache-Major Padraig Clark
Consular Officer--Ian Turner
Management Officer--Molly Fayen
USAID Director--Ashley Moretz
Peace Corps Director--Ed Willet
The U.S. Embassy is located at 9 1984 Street (formerly Pushkin Street), Ashgabat, Turkmenistan; tel: [993](12)35-00-45; fax: [993](12)51-13-05.
USAID is located at 1, Yunus Emre Str., International Business Center, 744017, Ashgabat, Turkmenistan, tel: [993](12)45-61-30 ; fax: [993](12)45-47-62.
The Peace Corps is located at 31-A Professor Myati Kosaev Street, Ashgabat, Turkmenistan, tel: [993](12)35-04-50; fax: [993](12)51-12-08.